Texas: 3 Men Face Life For Pot Edibles; Harsh Policy Creates Local Outcry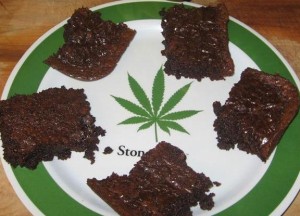 By Steve Elliott
Hemp News
Three Texas men arrested in recent weeks are facing the possibility of life in prison after being caught with small amounts of edible marijuana products, and that has resulted in an outcry from some residents of Amarillo who say that's just too harsh.
Potter County deputies busted Eli Manna, 30, and Andrew George, 27, after stopping them for a traffic violation on March 16, reports JC Cortez at the Amarillo Globe-News. A search of the vehicle yielded seven purple brownies weighing a total of 650 grams, which triggered the most severe punishment range for marijuana possession under Texas law.
More than 400 grams means 10 years to life in prison and a fine of up to $50,000. Texas law nonsensically considers the weight of the infused food rather than just its marijuana content when calculating sentencing. According to the law, "adulterants and diluents" are to be considered part of the total volume of controlled substances, which makes absolutely no sense when it comes to cannabis edibles.
Just 10 days later, troopers from the Texas Department of Public Safety arrested Fernando Bejarano, 19, of Tulsa, Oklahoma, after stopping him for a traffic violation. Troopers found more than 800 grams of commercially packaged baked goods and candies containing THC, the principal psychoactive ingredient of cannabis.
The seized products included Edipure brand gummies and Kiva brand vanilla chai-flavored mini chocolates. Bejarano was booked into Potter County Jail on the same charge as Manna and George.
"The fact of the matter is people are getting arrested in the counties in the Panhandle on a regular basis for doing very little 'bad,' even according to our own laws -- and nothing wrong according to the laws of Colorado and many other states," said Jeff Blackburn, an attorney from Amarillo.
"This is nonsense," Blackburn said. "These are no serious felonies."
Blackburn is the founder and chief counsel of the Innocence Project of Texas, and as such has helped with the exoneration of 35 people who were wrongly convicted in a 1999 drug roundup in Tulia. Those involved were eventually pardoned by then-Gov. Rick Perry.
Possessing two ounces of marijuana in Texas is a Class B misdemeanor, with a maximum penalty of 180 days in jail and a fine of up to $2,000. But if you cook those same two ounces of weed into four sticks of butter, you have 454 grams of marijuana, according to the backwards-ass Texas law, anyway, and you could get a life sentence for that shit.
"When you mix cocaine with anything or meth with anything or PCP, or any of the Schedule 1 drugs, we weigh it and its adulterants as a single product … the strength level does not matter," Trooper Daniel Hawthorne said during an interview Friday, managing to remain completely irrelevant and clueless in a discussion about marijuana flowers.
"In other words, if you take one drop of hash oil and put it in a gallon of water, you're going to be charged with a gallon of a controlled substance," lawyer Blackburn said. "That is just medieval and stupid. … This is where the law in Texas becomes hyper-technical and very repressive."
"To receive a life sentence for a plant that has never been linked to an overdose, is safer than alcohol, is used medically in 23 states and is legal for recreational use in four states and in Washington, D.C. — it's ridiculous," said activist Shane Cox, founder of Amarillo Cannabis Culture. "Sugar in the brownies has caused more deaths in this country than the cannabis."
"Cops are not robots," said Blackburn. "Prosecutors are not robots. Law enforcement has a lot of discretion in how they treat people, and DAs have a lot in how they handle these cases when they get to court."
"I do not believe that most taxpayers, even in the Panhandle, are in favor of this hyper-repressive approach to marijuana laws," Blackburn said. "Every single one of us has an interest in not letting the government run amok."
Hemp News thanks reporter JC Cortez for alerting us to this story.
Photo: These 5 pot brownies could get you life in prison in Texas, if they weigh just 81 grams apiece. (The Free Thought Project)