U.S.: Americans for Safe Access To Host Advocate Discussion of CNN's Weed 3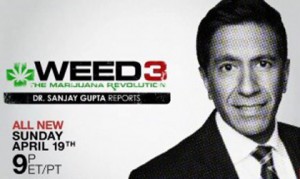 Dr. Sanjay Gupta on Sunday night continued his groundbreaking reporting on medical marijuana with "Weed 3," which continued to introduce Americans to new stories of patients benefiting from medical marijuana and document the challenges that continue to slow down progress in this critical area.
"Weed 3" included important moments like President Obama signaling his support for medical marijuana and documenting the political commitment of Senators Cory Booker (D-NJ), Kirsten Gillibrand (D-NY) and Rand Paul (R-KY) to reform federal policy on medical marijuana with the CARERS Act. Patient profiles like that of U.S. veteran Sean Kiernan, who uses medical marijuana to treat PTSD symptoms again showed Americans that medical marijuana can have tremendous benefits in the lives of suffering patients.
"CNN's 'Weed 3' showed how patient advocates are fighting for and winning the right to safe access to medical marijuana for themselves as well as researchers," said Steph Sherer, executive director of Americans for Safe Access. "Political leaders like President Obama, Senators Booker, Gillibrand and Paul are supporting medical marijuana reform because they understand the huge difference it can make in patient's lives."
"Weed 3" also highlighted the important veterans PTSD study that researchers Rick Doblin and Dr. Sue Sisley are moving forward with despite significant political obstacles that have delayed and threatened to prevent the study from being conducted.
"Dr. Gupta's reporting has showed that America is moving forward in the area of medical research, but there is little doubt that too many obstacles remain in place," said Mike Liszewski, Government Affairs director of Americans for Safe Access. "The National Institute of Drug Abuse (NIDA) monopoly on the supply of cannabis available for government-approved research has proven to be a failure due to their inability to produce particular strains in a timely and consistent fashion. One of the many ways the CARERS Act would help move research forward is ending NIDA's crippling monopoly on growing research marijuana."
Monday night, April 20 at 7 pm EST, patient advocacy group Americans for Safe Access (ASA) will host a Google Hangout to discuss the documentary and the issues it examines.
What: Google Hangout on the medical marijuana revolution and issues raised in Sanjay Gupta's Weed 3.
Featuring: ASA executive director Steph Sherer, Jahan Marcu Ph.D, Matt Kahl, U.S. combat veteran and activist with Grow for Vets and Weed 3 participant Dr. Sue Sisley.
When: Monday April 20th 7:00pm EST.
Where: http://www.safeaccessnow.org/asa_live or https://www.youtube.com/user/SafeAccess
Participant Biographies
Steph Sherer is founder and executive director of Americans for Safe Access (ASA), the largest national member-based organization of patients, medical professionals, scientists, and concerned citizens promoting safe and legal access to cannabis for therapeutic use and research.
Sue Sisley M.D. is a medical cannabis researcher. Her research into medical marijuana as a treatment for Posttraumatic stress disorder lead to her being fired for from the University of Arizona after political pressure was directed at the University over her research. Dr. Sisley is the recipient of the 2015 Researcher of the Year award from ASA.
Matthew Kahl served with the U.S Army 101st Airborne Infantry (Air Assault), 1/506th Infantry Regiment "Band of Brothers." He is a combat veteran that sustained injuries during a combat patrol in which a medic was killed and two other soldiers wounded. He was diagnosed with PTSD shortly after. He is currently the Horticulture Director with the advocacy group Operation Grow 4 Vets.
Jahan Marcu, Ph.D is the Research and Development Director at Green Standards Diagnostics Inc.,a cannabinoid research scientist, and the Senior Science Advisor at ASA. Dr. Marcu is the recipient of the 2012 Researcher of the Year award from ASA.