Washington: Gov. Inslee Signs Bill Eliminating Medical Marijuana Dispensaries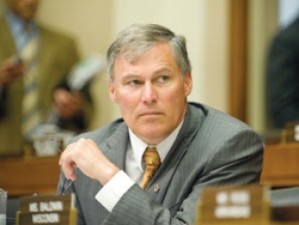 By Steve Elliott
Hemp News
Washington Governor Jay Inslee on Friday signed into law regulations which essentially eliminate medical marijuana dispensaries in the state, along with the medicinal cannabis system as it's been known there since voters approved it back in 1998.
Purportedly an "overhaul" measure to subject medicinal cannabis to the licensing, testing, inspection, and tax requirements of the recreational side, the bill's actual intent and effect is to get rid of the pesky medical marijuana community, which has consistently outperformed the recreational I-502 cannabis outlets with better product and lower prices.
Patients who have for years enjoyed the ability to visit medical marijuana dispensaries where the employees themselves were also facing medical challenges, and had bothered to inform themselves about medicinal applications of cannabis, will now be forced into the recreational market, where the focus isn't on medicine and in fact where I-502 store employees are forbidden by law from even mentioning the medical applications of marijuana.
Plant counts for patients, in one fell swoop, are being reduced from 15 to 6. Dried marijuana limits are similarly being slashed from 24 ounces to 3 ounces per patient. Ironically, the 15 plants/24 ounces limits were themselves compromises reached a few years ago when the best scientific studies available showed more appropriate limits would be 71 ounces and 99 plants.
Inslee line item vetoed a few parts of the bill but kept most of it, including authority for collectives of up to four patients to form growing cooperatives of up to 60 plants, reports Jordan Schrader at the Bellingham Herald.
I-502 business owners had pressured the Legislature to crack down on medical marijuana dispensaries, which they characterized as "dangerous" and "unregulated." The main problem, however, seemed to be that the medical shops were under-pricing the recreational stores, often with superior marijuana. Rather than upping their own game, in other words, I-502 store owners chose to have the competition outlawed.
Patients will now face tighter restrictions on medical authorizations and marijuana possession. Arrest protection is included only if patients agree to register in a state database; no other group of patients using any other medicine have such a requirement.
Since local municipalities have the power to ban recreational marijuana outlets -- which will be the only game in town once the last medical cannabis dispensaries are shut down by the deadline of July 2, 2016 -- some areas of the state will be "deserts," lacking any safe and legal access to marijuana for patients or other customers, said Rep. David Sawyer (D-Lakewood).
The measure renames the Washington State Liquor Control Board to the Liquor and Cannabis Board.
Cities and counties will now be allowed to reduce to 100 feet a 1,000-foot buffer zone where cannabis businesses are now prohibited around parks, libraries, and daycare centers, but buffer zones around schools and playgrounds must remain at 1,000 feet.
Speaking on condition of anonymity, one Tacoma medical marijuana dispensary owner said he planned to run "full tilt" until the deadline comes next year. "Then I'm going to retire," he told Hemp News.
Photo of Jay Inslee: Green Tech Media