Canada: CannTrust Launches New Line of Patient Ready Medical Marijuana Strains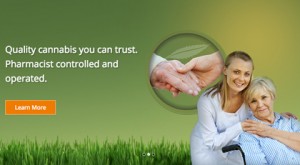 CannTrust develops new line of products in a ready to use format at $3.50/gram
CannTrust, "Canada's only pharmacist-controlled and operated producer of medical cannabis," has launched of its own product line of "patient ready strains" at just $3.50 a gram, delivered. "Patient ready," in this context, means that the weed arrives in a pre-ground state, ready for your vaporizer, pipe, bong or paper.
"We are pleased to offer this new format of products carefully selected from our most popular strains of premium cannabis," reads a prepared statement from the company. "The cannabis is from the same harvest and lots as the original bud form of these same strains and is then refined into an already prepared version of medical cannabis that is easy to use by patients, especially in a vaporizer."
"We are very excited about the launch of these products for several reasons that we feel will be beneficial to both patients and their doctors," the company announced.
Each of the three strains are only $3.50/gram, "making this an affordable and easy to use option for medical cannabis," the company announced.
Supreme Formula - Patient Ready
THC: 8.5% • CBD: 0.2%
Indica/Sativa Hybrid
Supreme Formula 8.5 percent THC is a unique blend of the best THC strains. This was specially formulated to meet the recommendations of the College of Family Physicians of Canada's recommendation of up to 9 percent THC, according to CannTrust.
Original Cheese - Patient Ready
THC: 11.4% • CBD: 0.1%
Indica 50% • Sativa 50%
Original Cheese is a top selling strain, a 50/50 indica/sativa, and now available in patient ready format.
Nebula II CBD– Patient Ready
THC: 4.0 % • CBD: 5.6%
Indica 10% • Sativa 90%
Nebula II CBD is a well-balanced CBD strain making this an ideal choice for patients in need of medical marijuana, according to CannTrust.
About CannTrust Inc.
CannTrust received its license to distribute medical cannabis to patients in February 2015. Based in Vaughan, Ontario, CannTrust says it "is committed to producing the highest quality pharmaceutical grade cannabis; promoting evidence based clinical research; and providing exceptional customer support."
"CannTrust has invested in its state-of-art hydroponic facility and onsite laboratory equipped with leading-edge technology, and has an exceptional team of pharmacists, nurses, scientists, laboratory technicians, master growers and call centre specialists," according to a press release.
"With patient access as the focus, the company provides the most comprehensive patient assistance program for patients with financial needs in Canada," the release reads. "In addition, CannTrust places an emphasis on patient education and the elimination of social barriers through numerous initiatives and partnerships."