California: Twyns CBD and THC Mixing Kit Introduced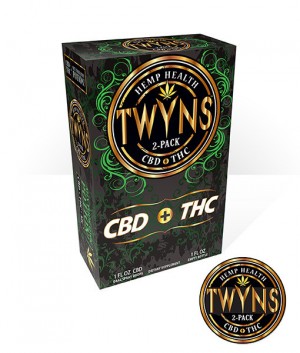 Created for creating a personalized, therapeutic blend of liquid Cannabidiol and THC, the makes of Twyns say it helps people make the best use of cannabis for personal health and wellness
Hemp Health Inc., maker of hemp cannabidiol (CBD) products, on Tuesday released Pharma-CBD Twyns, which the company describes in a press release as "the first legal CBD and THC mixing kit."
Designed for sale at medical marijuana dispensaries, Twyns allows cannabis users to create a therapeutic blend of CBD and THC – without smoking anything.
Twyns will help patients and everyday users personalize cannabis supplementation to meet their health and wellness goals, according to the company.
THC (Tetrahydrocannabinol) is a principal compound in medical marijuana, and while patients normally get THC by smoking the plant, this presents three problems.
First, many patients would prefer not to smoke. Second, most medical marijuana is rich in THC but very low in CBD. Third, individuals react differently to various levels of CBD and THC, but normally they can't choose the proportion of each compound.
According the Hemp Health, Twyns addresses all three problems by allowing users to ingest THC and custom blend both compounds in one liquid solution.
"Twyns" refers to the two bottles contained in the mixing kit. One bottle comes filled with Hemp Health Inc.'s pharma-grade CBD. The second bottle is for liquid THC, and law requires that it be filled by a local dispensary.
"Twyns is a true partnership between our company and the local dispensaries that are critical to the cannabis economy," said Katarina Maloney, president of Hemp Health Inc. "We're interested in working with dispensaries that can extract high quality liquid THC to complement our CBD.
"All the research suggests that we can provide much greater value to customers if we offer one product that is rich in both THC and CBD. Nothing like this has been introduced to the market," Maloney said.
With Twyns, customers can experiment with different amounts of CBD and THC to find the balance that works best. Both the liquid CBD and THC are meant to be ingested, and they can be mixed into salads and smoothies.
Twyns owners can purchase additional CBD from their dispensary or from Hemp Health Inc.'s website, and they can refill their THC bottle at the dispensary.
Health Hemp Inc.'s CBD comes from high-CBD, low-THC hemp. Kosher, vegan and non-GMO, the hemp is sourced from sustainable farms in Germany, Denmark and other European countries. The CBD alone is legal all 50 states and 42 countries.
To learn more about Pharma-CBD Twyns, visit www.hemphealthinc.com/twyns .