Washington: R76 NO Would Say NO To Ending Medical Cannabis Dispensaries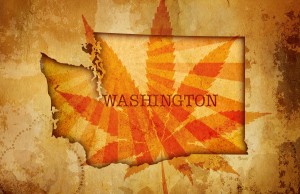 By Steve Elliott
Hemp News
According to Paul Stanford, who heads up the Campaign for the Restoration and Regulation of Hemp (CRRH) and The Hemp and Cannabis Foundation (THCF Clinics, which has authorized more patients in Washington than anybody else), which owns Hemp News, if 500 medical marijuana dispensaries in Washington state contributed $1,000 apiece, a voter initiative or referendum could qualify for the ballot, potentially saving medical cannabis in the state.
According to Stanford, who has plenty of experience on the political scene, $500,000 is the minimum amount needed to gather enough signatures to qualify. Will Washington's medical marijuana community step up to the plate?
"It's a matter of survival," Stanford said. "The clock is ticking, and it's time for the leaders of Washington's medical marijuana community to step up and take action. CRRH supports the preservation of safe access for Washington state patients."
"We authorized about 35,000 patients last year in Washington State," Stanford said."History, we've helped about 100,000 patients in Washington State get their cards since 2003, when we started helping patients in Washington. We started in Oregon in 2001, and we had people coming to our clinics there saying 'We need a doctor in Washington.
"We want to uphold our responsibility to the patients of Washington," Stanford said. "We're going to have petitions in our offices for patients. We've pledged $1,000 to the campaign, and we're going to be donating more."
I-502, the weak legalization initiative which is now having the effect of crippling the medical marijuana community, passed with a $3 million war chest, despite having onerous provisions including an unscientific 5 nanogram per milliliter per se DUI cutoff point for THC.
Under SB 5052, the expansion of I-502 recently signed by Governor Jay Inslee, medical marijuana dispensaries will be required to close down after July 2, 2016, forcing patients to compete with recreational users or go back to the black market.
One way to avoid the elimination of medical marijuana dispensaries and decimation of the community represented by SB 5052 would be using the voter referendum process to say "No" to 5052. That's the approach being taken by activist Don Skakie.
Skakie's Referendum 76 would keep medical and recreational marijuana separate, to make sure patients have safe access to their medicine.
A medical marijuana patient himself, Skakie said the industry has successfully self-regulated on its own since voters approved medical marijuana in 1998. Medical cannabis dispensaries have begun to adopt their own standards across the board, he said.
"Pesticides are NOT medicine," Skakie said, referring to the fact that hundreds of pesticides are allowed -- but not tested for! -- on I-502 store cannabis. "Patients have already created a system and practices that serve the current need, and should be retained and codified. To do otherwise may turn them to the black market."
"Mainstream voters wanted the sick and dying in Washington State in 1998 to have the right to use medical cannabis, and the leaders 'for now' that are in Olympia, went and violated the will of the voters," said medical marijuana patient and activist Adam Assenberg. "That is why we need the help of the voters once more to bring back the will of the people instead of the greed of our leaders.
"Without the help of mainstream voters, the sick will be forced to suffer once more," Assenberg said.
.......
According to Skakie, R76, by saying "No" to 5052, would give patients back their 15-plant limit, reduced to 6 plants by 5052. "It removes the sections that change current limits," Skakie said.
R76 would also remove the sections that close current access points.
Section 18 of 5052 provides that only primary care physicians with an "established relationship" can authorize medical cannabis and only at the permanent location of said physician. A NO vote on R76 will retain the ability of patients to get authorizations in cases where the primary care physician will not write them.
"It will also continue to allow authorizers to attend to those unable to travel," Skakie said. "We believe the voters will agree that it is an unreasonable burden to deny those without the ability or resources to travel to established offices to obtain an authorization and thereby be subject to criminal charges."
Section 19 of 5052 requires that an authorizer detail dosage, and that patients not participating in the state registry be denied relief from taxation. A NO vote on R76 will preserve the protections authorizers have from prescribing dosage in conflict with federal law, and not require that patients be registered to obtain equal consideration under the law. "We believe that the voters would not endanger authorizers in such a way, or deny patients relief if not participating in the registry," Skakie said.
Section 23 of 5052 makes it a Class 3 felony to transfer cannabis a patient produces to any other person, including another qualifying patient. A NO vote on R76 will not expose patients to felony arrest and prosecution simply for sharing and helping another patient in need. "We believe the voters will agree that this is a move backward in the reform of cannabis laws," Skakie said.
Section 24 grants arrest protection only if participating in the state patient registry. It would also prohibit compassion, the giving of cannabis to another qualifying patient at no charge. A NO vote on R76 will not require participation in the registry or make it a crime to help another patient free of charge. "We believe the voters will find this not in the best interests of patients or the greater good of the People of Washington state," Skakie said.
Section 27 of 5052 limits non-collective grows to 15 plants. Patients living together on the same property could not provide for themselves individually beyond the 15 plant limit. "It is unreasonable to force cooperation between patients when their needs and/or growing styles and preferences may differ," Skakie said. A NO vote on R76 would return the law to present limits. "We believe the voters will agree that it is not reasonable to restrict patients' ability to provide for themselves or insist they work together if living together, if that is not their choice."
Section 29 of 5052 repeals collective gardens as they now exist. A NO vote on R76 would retain the current law regarding collective gardens. "This is important, that patients retain the ability to work together, including financial contributions in place of actual physical participation," Skakie said. "We believe the voters will be agreeable that someone without physical ability not be required to work, and instead provide financial assistance, or even nothing at all, to receive their medicine."
Section 48 of 5052 repeals patients' affirmative defense. A NO vote on R76 would retain the current law keeping affirmative defense. While the patient registry created by 5052 would continue to exist, since the registry section has an emergency clause and is therefore not subject to referendum, what can be done, according to Skakie, is to remove the sections that state patients must participate in order to get favorable treatment.
.......
After those sections are removed, "There will be no reason for any patient to participate in the registry, but the registry will still exist," Skakie said.
"We are R76 NO because we do NOT agree that these sections should become law," Skakie said. "A NO vote on R76 will prevent this sections from becoming law.
R76 needs 123,186 valid voter signatures by July 24 to appear on the November 2015 ballot. "Signature collection is expected to begin on or about May 18," Skakie told Hemp News.
.......
Graphic: Marijuana Growers Headquarters