Kentucky: Hemp Industry Growing, Attracting Processors, Investment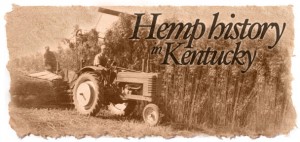 By Steve Elliott
Hemp News
Kentucky's industrial hemp crop is growing and bringing new investors to the state, Agriculture Commissioner James Comer announced at a Tuesday news conference in Lexington.
According to Comer, 121 participants have been selected to grow hemp this year, including seven universities across the state, reports Janet Patton at the Herald-Leader. Thirty-six groups and projects will grow 1,742 acres of hemp this year, he said.
Last year, the first in decades that a legal hemp crop was grown in Kentucky, saw 20 farmers growing just over 33 acres.
The re-emerging industry has attracted 24 licensed hemp processors who are investing in the state, according to Comer.
"With their investment, jobs have been created, jobs are going to be created, and they've signed contracts with family farmers," Comer said. "Hemp equals jobs and true economic growth, which is what we predicted when we launched Senate Bill 50 two years ago."
Among the investors are Colorado's Stanley Brothers, who said on Tuesday they plan to grow hemp in Kentucky for their Charlotte's Web CBD oil, used to treat seizures in children. Joel Stanley, CEO of Stanley Brothers Social Enterprises, said they plan to invest at least $500,000 this year.
"We want to make Charlotte's Web a Kentucky Proud product," Stanley said. "This year's certainly a pilot year. We're looking at introducing our genetic varieties for Charlotte's Web this year and we'll be doing that very soon, actually, and basically hoping to move a large part of our operation here to Kentucky."
Stanley said they grew 20 acres last year in Colorado, and will grow 40 acres there this year. "We'll be growing about 100 acres here in Kentucky," he said. "These are varieties used to create the Charlotte's Web product line."
"Millions" have been invested in hemp production and processing in the state, according to Kristen Branscum, marketing director for the Kentucky Department of Agriculture.
Graphic: Kentucky Department of Agriculture