Louisiana: Senate Approves Medical Marijuana; Bill Headed To House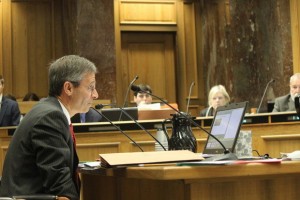 By Steve Elliott
Hemp News
The Louisiana Senate on Monday approved legislation which would legalize the medicinal use of cannabis. Senate Bill 143, which spells out how the state's medical marijuana industry would work, was approved on a 22-13 vote.
If the bill is approved by the Louisiana House, patients with a doctor's authorization could obtain cannabis in non-smokable form at one of 10 dispensaries across the state, reports Emily Lane at the Times-Picayune. The bill passed on Monday approves one growing site.
SB 143, sponsored by Sen. Fred Mills (R-New Iberia), would restrict the use of "CBD only" medicinal cannabis in non-smokable forms to patients with glaucoma, spastric quadriplegia and for those undergoing chemotherapy treatment for cancer.
The Louisiana Legislature legalized medical marijuana in 1978 and then again in 1991, but neither bill allowed for legal dispensing of the herb; the Department of Health and Hospitals was supposed to write rules for dispensing it nearly a quarter century ago, but never did.
Three state agencies would have rule-making authority under Mills' bill: the Louisiana Board of Medical Examiners would set rules about doctors' authorizations; the Louisiana Board of Pharmacy would set rules about dispensaries; and the Louisiana Department of Agriculture would set rules for the single grow site.
Governor Bobby Jindal indicated two weeks ago that he is open to signing legislation legalizing medical marijuana, as long as the industry is "tightly regulated."
Mill's legislation would allow the state to track sales in order to detect "doctor shopping." It also includes a sunset clause, forcing the Legislature to readopt the law or allow it to expire in five years after examining its impact.
Lawmakers will be called upon in 2020 to determine if "there's not a surge in number of people who have glaucoma," said cynical state Sen. Eric La Fleur (D-Ville Platte), who added the sunset clause as an amendment to the bill.
Mills sponsored a similar bill last year, but it died in the Senate Committee on Health and Welfare by a vote of 2-6. That same committee approved the bill this year with an objection from any member. Some of the committee members who voted against the bill last year spoke up for it and voted for it on the Senate floor Monday evening.
The difference, according to Mills, was collaboration on the bill with the Louisiana Sheriffs' Association. The lobby group opposed the bill last year, but its official stance this year became neutral.
The Sheriffs' Association's executive director, Mike Ranatza, sat by Mills' side during the debate in committee. He even spoke about how marijuana can possibly help patients who need it. Ranatza said he was especially moved after a colleague's daughter died of cancer within the past year after having asked him to find a way to make cannabis legally accessible to patients like her.
Mills, a pharmacist by profession, became interested in medical marijuana when a patient contacted him about legal access. Since he has become a spokesman for the issue, other patients and doctors have shared stories with him.
The legislation now goes to the Louisiana House for consideration. "I ask you to vote 'yes,' for patients across the state," Mills said to his colleagues on the House floor Monday evening.
Photo of Sen. Fred Mills: Emily Lane/Times-Picayune