New York: Viridian Capital Hosts 'First Ever' NYC Cannabis Investor Briefing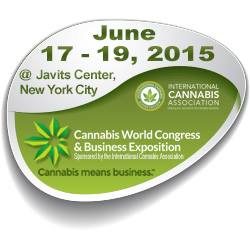 An entrepreneurial investment opportunity in a new industry is unfolding as more and more states legalize medical and recreational marijuana. "Investing in the Emerging Cannabis Industry While Managing Risk," on June 18 in New York, will explore and discuss the opportunities and risks in this growing multi billion-dollar industry.
Hosted by Viridian Capital Advisors, which describes itself as "the first investment banking and strategic advisory firm dedicated to the cannabis market," this invitation-only morning briefing is open to attendees of the Cannabis World Congress & Business Exposition (CWCBExpo). Taking place June 17-19 at the Javits Center in New York, the 2nd Annual CWCBExpo is the largest business event on the East Coast for the cannabis industry, according to organizers.
"The legal Cannabis industry is not just a social movement, but also a business and financial revolution, with the industry generating $2.7 billion in sales in 2014 and more than 300 public companies in the sector," said Scott Greiper, president of Viridian Capital Advisors. "With this opportunity, however, come risks that are particular to the nature of the cannabis industry.
"This briefing, taking place in Wall Street's backyard, will provide a tutorial about how to identify investment opportunities in the sector while properly managing risk," Greiper said.
"Investing in the Emerging Cannabis Industry While Managing Risk" will provide perspective and guidance on the real questions that investors should be asking when considering investing in this emerging market. Learn from industry CEOs and investors, industry analysts and bankers, law enforcement and regulatory experts as they discuss:
• Which sectors of the Cannabis industry to invest in and which to avoid
• Valuations and terms for current capital raises and M&A transactions in the sector
• How Federal/State legal and legislative policy affects investment decisions in this sector
• Evaluating a Cannabis company's management team and business model
• Industry challenges from cash management to SEC oversight
This private morning briefing will also include an open discussion among invited guests and a confidential question and answer session.
"This Investment Briefing complements our conference program and provides the New York financial community with the most comprehensive information and guidance on the cannabis industry as an incredible investment opportunity," said Dan Humiston, president of the International Cannabis Association (ICA) and a managing partner of Leading Edge Expositions, LLC, the producers of CWCBExpo in NY.
In addition to the Investment Briefing, topics of interest for investors and companies seeking capital at the CWCBExpo in NY conference include:
• Why a Wall Street Model is Needed in the Cannabis Industry
• How to Use "Crowd-Funding" to Raise Capital For Your Cannabis Business
• How to Maximize the Valuation of Your Cannabis Business—For Sale or Investment
• How to Attract Wall Street to Your Cannabis Business
"Investing in the Emerging Cannabis Industry While Managing Risk" is only open to registered CWCBExpo conference and expo attendees. To register for CWCBExpo in NY at advanced rates go to www.cwcbexpo.com/new-york-show/registration.asp.
Investors interested in attending the Investment Briefing hosted by Viridian Capital Advisors at CWCBExpo in NY should contact mswartz@viridiancr.com for more information. For information on sponsoring or exhibiting at a CWCBExpo event, contact Don Berey, Show Director, at dberey@leexpos.com or call 201-881-1614.