Indiana: Marijuana Based Religion Is Growing Like A Weed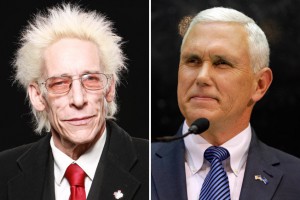 By Steve Elliott
Hemp News
Do you use cannabis every day, religiously? So does Indiana's Bill Levin, and he's taking advantage of the state's controversial Religious Freedom Restoration Act (RFRA) -- passed to legalize discrimination against gays in restaurants and other establishments -- to offer a bold test of the law's ban on government restraints on the exercise of religion.
Adherents of the recently established First Church of Cannabis worship and smoke marijuana, reports Steven Nelson at US News & World Report, which is illegal to grow, use or possess under state law.
It's unclear if local police and prosecutors will take action against the church, or accept claims the conduct is protected by the RFRA. We'll know more after the church's first worship service, scheduled for July 1, the same day the RFRA takes effect.
Levin said he's trying to find a church building willing to lease him space. He said the July 1 service will happen "come hell or high water" and that he will consider any suitable alternative, including religious campgrounds, private land, or a public park.
The church has raised more than $10,000 on the crowdfunding site Go Fund Me. Levin said the church Facebook page's 31,000 followers include a core group of local activists sure to attend the service.
The new religion apparently owes its existence to a March 23 blog post from attorney and radio host Adul-Hakim Shabazz on his site IndyPolitics.org, in which Shabazz pointed out the RFRA may unintentionally allow for religious use of marijuana.
Shabazz said he plans to attend the service if it happens, although he personally doesn't use marijuana.
Opponents of the RFRA say that it legalizes religion-based discrimination, particularly against gay and transgender people. The Republican-led state government approved the law with the apparent intention of protecting "religious" business owners from having to serve same-sex couples with cake, photographer or flowers after the court-ordered legalization of such marriages.
Gov. Mike Pence, a Republican, claimed the intent of the law was not to harm sexual minorities. His office did not immediately comment on Levin's Church of Cannabis plans. The office of Indianapolis Mayor Greg Ballard also declined to comment.
Spokespeople for the Indianapolis Police Department did not respond to requests for comment; a member of the Marion County Sheri8ff's Office said it won't be involved in enforcement unless the event happens on county or city property.
Church members would have a hard time winning if it goes to court, according to First Amendment expert Eugene Volokh, a law professor at UCLA. "This isn't a new argument, but it has almost uniformly been rejected," Volokh said.
Levin confidently predicts there will be no problems with police during his church's first service. "I don't think anyone is going to come into the church," he said. "Even right wing conservatives have smiled at me and said, 'Do it!'"
Photo of First Church of Cannabis founder Bill Levin, left, and Indiana Gov. Mike Pence: US News & World Report