Colorado: Mobile Marijuana Order-Ahead and Loyal Platform Launches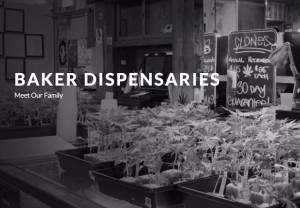 Baker, an order-ahead and loyalty platform for the burgeoning Colorado marijuana industry, has launched publicly. During a successful three-month beta run, dispensaries saw thousands of dollars of orders coming through the Baker app, which allows customers to reserve up to an ounce of their favorite cannabis strain and skip the line.
Dispensaries can easily list their menus, manage inventory, post real time specials and manage loyalty programs on the app, according to the company. Customers order ahead, browse member-only specials and earn loyalty rewards at their favorite dispensaries, and have their order waiting when they arrive.
With more than 400 licensed recreational and medical marijuana dispensaries and hundreds of millions of dollars in sales in Colorado, Baker fills a pressing need for the kind of reservation and loyalty tools which have revolutionized other industries, according to CEO Joel Milton.
The app, which is launching in Colorado with 20 dispensaries, is rapidly adding locations within Denver and in the coming months will expand to other cities with legal marijuana nationwide, according to Milton.
"We currently have a waiting list (well over 1,000+ people and 20+ dispensaries) so that each new user and dispensary has the best possible experience when they first use Baker," Milton said.
He noted that demand at dispensaries has grown so fast, that many locations often have lines out the door, with the regular customers who know what they want waiting alongside tourists who want to linger and ask a lot of questions.
"The 30 percent of customers who are providing 85 percent of the dispensary revenues typically want a quick transaction," Milton said. "Baker turns these regulars into VIPs, allowing them to order ahead and skip the line. This allows the regulars to get on with their day, and simultaneously frees up the budtenders to spend more time with the customers who need it."
Baker also enables dispensaries to reward their regular customers with discounts and promotions, ensuring that the customers who provide 85 percent of revenue continue to shop at their location. Milton noted that the service also is useful for busy professionals and parents who don't want to spend a lot of time waiting in a dispensary.
"Loyalty with an airline means you get priority boarding, free checked bags, and even free flights," Milton said. "Restaurants know their customers' favorite dishes and tables, and give priority to these guests even if there is a wait. The cannabis industry has an opportunity to reward its best customers too."
For updates and more information about Baker visit trybaker.com or connect on Facebook or Twitter.