Illinois: Senate Approves Bill To Remove Criminal Penalties For Marijuana Possession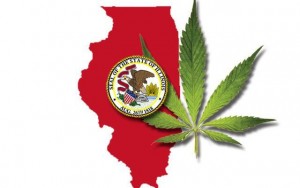 Measure Will Be Sent to Gov. Bruce Rauner for His Signature
HB 218 replaces the threat of jail time and a criminal record with a civil penalty — a $125 fine, similar to a traffic ticket — for possession of a small amount of marijuana
The Illinois Senate on Thursday approved a bill 37-19 to remove criminal penalties for possession of a small amount of marijuana. The measure, which was approved by the House of Representatives in April, will now be sent to Republican Gov. Bruce Rauner for his signature.
HB 218, introduced in the Senate by Sen. Michael Noland (D-Elgin) and in the House by Rep. Kelly Cassidy (D-Chicago), makes possession of up to 15 grams of marijuana a civil law violation punishable by a $125 fine. Individuals will no longer face time in jail, and the civil offense will be automatically expunged in order to prevent a permanent criminal record.
"Serious criminal penalties should be reserved for individuals who commit serious crimes," Rep. Cassidy said. "The possibility of jail time should not even be on the table when it comes to simple marijuana possession. Criminalizing people for marijuana possession is not a good use of our state's limited law enforcement resources."
Under current Illinois law, possession of up to 2.5 grams of marijuana is a class C misdemeanor punishable by up to 30 days in jail and/or a fine of up to $1,500; possession of 2.5-10 grams is a class B misdemeanor punishable by up to six months in jail and/or a fine of up to $1,500; and possession of 10-30 grams is a class 4 felony punishable by up to one year in jail and/or a $1,500 fine. More than 100 localities in Illinois have adopted measures that reduce penalties for simple marijuana possession.
"We hope Gov. Rauner will sign this important and broadly supported legislation," said Chris Lindsey, a legislative analyst for the Marijuana Policy Project (MPP). "This is a sensible alternative to Illinois's needlessly complicated and draconian marijuana possession laws.
"It's time to stop destroying people's lives over possession of a substance that is undeniably less harmful than alcohol," Lindsey said.
Illinois' marijuana laws disproportionately impact communities of color, according to reports released by the Institute for Metropolitan Affairs at Roosevelt University in May 2014 and the American Civil Liberties Union (ACLU) in June 2013. African Americans in Illinois are 7.6 times more likely to be cited or arrested for marijuana possession than whites, despite using marijuana at a similar rate, according to the ACLU.
"This legislation is long overdue in Illinois," said Rev. Alexander Sharp, executive director of Clergy for a New Drug Policy. "Simple marijuana possession does not warrant harsh criminal penalties that can turn someone's life upside down.
"Laws should protect people, not cause more harm to them than the activity they're intended to prevent," Rev. Sharp said.
Nineteen states and the District of Columbia have removed the threat of jail time for simple marijuana possession.