Colorado: Sipp Industries Enters Cannabis Space With Plasma Lighting Sale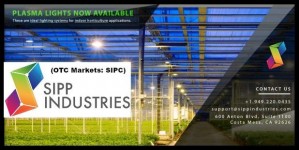 SIPP Industries, Inc., a conglomerate corporation that specializes in technology, import and export of commercial and consumer products, on Tuesday announced the initial sale of Sipp's Advanced Plasma Lighting (APL) to a strategic partner located in Colorado involved with the commercial development of cannabis grow operations.
"This initial order will be evaluated by our partner in the Colorado market to determine potential and feasibility for larger scale deployment in excess of 100 Sipp lights over the next 6-12 months," said Sipp CEO Syman Vong. "It is our mission to be the leader in consulting large scale commercial grow operations seeking higher efficiency lighting solutions with a focus on key recreational markets such as Colorado.
"Advanced Plasma Lighting is still in its infancy and we are taking a consultative approach to larger scale engagements that wish to test Sipp APL technology for proof of concept and beyond," Vong said.
In comparison to other grow lighting systems plasma can save up to 50 percent in energy consumption while significantly decreasing or eliminating the need for costly ventilation systems. More importantly, plasma lighting is the only technology that provides the fullest spectrum available which enhances the quality of the grow operation from vegetation to flowering stages compared with HID, HPS, and LED lighting systems, according to Sipp Industries.
To capitalize on this revolutionary trend in grow lighting the company has hired sales representatives covering emerging medical and recreational markets in Colorado, Washington, Illinois and Ohio.
"Our team reported back from the Marijuana Business Conference in Chicago this past week numerous inquiries and interest for full-spectrum lighting during roundtable discussions with cultivators and growers," Vong said. "Plasma lighting is the closest resemblance to natural sunlight and experts are starting to experience the difference.
"We anticipate the continued migration to plasma lighting and will be well positioned to take advantage of this trend," Vong said.
In addition to the recent new website and social media launches, Sipp Industries will be announcing new branding and marketing strategies to further enhance customer reach and brand awareness, according to Vong. "We are truly at the beginning of something special and look forward to keeping shareholders updated on company progress, branding, and new opportunities," he said.
For more information, visit http://www.sippindustries.com
Facebook: https://www.facebook.com/SippIndustries
Twitter: https://twitter.com/sippindustries