Nevada: Arrests Disrupt Medical Marijuana Convention In Las Vegas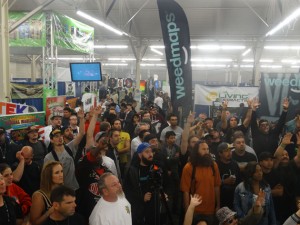 By Steve Elliott
Hemp News
Las Vegas police and federal drug agents brought in dogs and a SWAT vehicle, occupied the roof, arrested 10 people and seized marijuana and psilocybin over the weekend at Hempcon, a marijuana education convention at the Cashman Center.
Attendees described seeing police dogs around the event, as well as officers on the roof of the building, apparently trying to find people smoking marijuana, reports Eric Hartley at the Las Vegas Review-Journal.
Event organizers were outraged by the heavy-handed arrests, and some attendees said patients were left frightened as Nevada's first legal medicinal cannabis dispensaries prepare to open.
"It's disheartening for our whole community," said Jennifer Solis of the Wellness Education Cannabis Advocates of Nevada (WECAN), who attended the event.
Officers shut down five booths from Friday to Sunday, arrested 10 people and cited three others on charges of drug possession, possession with intent to sell and transporting a controlled substance, according to Officer Laura Meltzer, a Las Vegas Metro Police Department spokeswoman. Meltzer claimed officers had seized marijuana, hashish, cannabis seeds, edible products containing THC, and even some psilocybin mushrooms.
Meltzer claimed Metro narcotics detectives had warned Hempcon organizers before the event that attendees had to "follow the law."
Nevada allows medical use of marijuana by authorized patients, but it's illegal for anyone to use cannabis in public, and illegal to sell without a state dispensary license.
"It is incumbent upon the people who are attending this and who are conducting this to be aware of Nevada state law," sneered Meltzer when asked about criticism of the arrests. "We have an expectation that vendors and people who are doing these sorts of conferences would follow the law," said Lt. Laz Chavez, reports the Las Vegas Sun.
The police stance is hypocritical, since officers have looked the other way at similar events while people used marijuana, according to activist Mark Saint, who was at the convention on Friday.
The arrests were made by a federally funded "task force" called the Southern Nevada Cannabis Operation and Regional Enforcement, including Metro Las Vegas Police, Henderson Police and the federal Drug Enforcement Administration (DEA). DEA spokeswoman Sarah Pullen admitted a federal agent is on the task force, but claimed Las Vegas police led the operation.
Police apparently weren't all that proud of their little operation; they made no public announcement about it, and provided information only in response to questions. Officers claimed the names of those arrested still weren't available days later.
"It just seems like a waste of resources," said patient advocate Jason Sturtsman, who owns a medical marijuana cultivation operation. Sturtsman, who was not at the event but heard about the arrests, said he wondered whether the lack of any announcements from the police were due to their awareness of shifting public attitudes about cannabis.
The police even seemed to become more aggressive as the weekend wore on, according to people who were there.
On Friday, officers arrested some people who were selling marijuana, according to Kurt Duchac, a board member of WECAN. But on Saturday, officers started busting patients peacefully using cannabis in their cars, he said -- and on Sunday, a SWAT vehicle showed up and officers were on the roof of the building.
"They were targeting patients, people for simply having it on them," Duchac said. "They were running dogs through there."
Inside, officers were "trashing" booths and ripping open boxes "looking for drugs," Duchac said.
People gathered around to watch, with some yelling at police and filming them. "It was ugly," Duchac said.
"I think it's going to be a growing problem in Las Vegas when these dispensaries open up ... Where can these individuals consume cannabis in a safe place?" Sturtsman said.
"We deeply regret the unfortunate police activity during the Las Vegas Hempcon over the weekend of May 15-17," Hempcon organizers posted on Monday on their Facebook page. "It was a blow to our Vendors, the attendees, the Community as a whole, and to us as well.
"It is sad that our industry is subject to such indiscriminate and prejudicial behavior by law enforcement, but we as a Community will PERSEVERE and not let our forward momentum be derailed by them," organizers posted.
Another message in response to negative comments on Facebook stated that organizes made no money on the event. "If we would have been aware of the results we would have cancelled the event ASAP," the message read.
After an event last year called Hempfest, police were embarrassed by photos that showed people smoking pot while officers simply watched, said Solis, who has organized another marijuana-themed event. "You can thank all your buddies at Hempfest for all this backlash," she recalled one officer saying when she met with police after applying for her event permit.