Oregon: 2nd Medical Marijuana Dispensary License Filed By Kaya Shack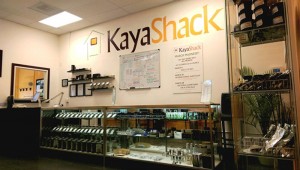 Kaya Holdings, Inc., which calls itself the first fully reporting U.S. public company to own and operate a vertically integrated medical marijuana dispensary and medical marijuana grow operation in the United States, on Wednesday confirmed that it has filed an application for an additional license to open its second Kaya Shack™ medical marijuana dispensary in Oregon.
The company, in a prepared statement, announced it "believes that its planned Kaya Shack™ Marijuana Superstore would support revenue-enhancing opportunities currently under development by the Company as well as those under consideration by the Oregon legislature, including potential early recreational sales by existing MMDs as early as early Fall 2015."
"Targeted to be open in 90 days or less to take advantage of potential early recreational sales currently under consideration by the Oregon Legislature, this location is to be launched as a Kaya Shack Marijuana Superstore," said Craig Frank, CEO of Kaya Holdings. "The first class space, with a footprint roughly three times the size of our first Kaya Shack MMD in Portland, was carefully chosen with an eye towards multiple usages to both enhance revenues and broaden branding opportunities.
"The design would also allow for both recreational and medical marijuana sales at the same location (subject to state and local approval), as well as a major profiling of certain proprietary Kaya Farms Grow products currently under development," Frank said.
"This next location is part of our announced growth plan and highlights our commitment to execute our business plan in a disciplined and calculated manner," continued Frank. "We are building the first truly vertically integrated legal marijuana enterprise in the United States."
Kaya Shack™ features more than 30 strains of marijuana, a selection of concentrates and oils, a variety of creams and lotions, and an assortment of infused cookies, candies and cakes.