Oregon: Stanford Urges Voters To Write Lawmakers, Protect Medical Marijuana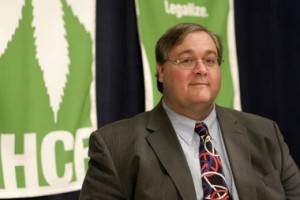 By Steve Elliott
Hemp News
Paul Stanford, director of the Campaign for the Restoration and Regulation of Hemp (CRRH), which owns Hemp News, on Friday called on Oregon voters to write their lawmakers to protect medical marijuana in the state.
"There is a month left of the Oregon legislative session and plenty of time to have an impact on the legislation," Stanford said on his public access television/webcast show "Cannabis Common Sense" Friday night.
"Here are a few things I hope people will testify to the M91 committee about," Stanford said."
"1) Progressive license fees. Why should a company with $10 million in income pay the same license fee as a small business making only $100,000? It will cost far more to regulate the big entities. This is also a great way to level the playing field and help Oregon grow an industry made up of small business and family farms. Progressive fees could also generate substantial revenue from the richest sectors of the new industry.
"2) Support local opt out only after a general election vote. This is the version of the opt out supported by the House members of the M91 committee. SB 964 is only halfway through the process. If enough people focus on this provision, we can change it.
3) Increase the weight limit for household 4 plant gardens. The eight ounce limit applies to the entire household no matter how many people that is. Virtually every home grower will be a felon when they harvest.
"We may not get everything we want from this session. but we have a chance to get these three things," Stanford said. :Please write the M91 committee and your legislators."
Stanford also endorsed the R76 NO campaign in Washington state, a voter referendum which is currently gathering signatures to roll back SB 5052, a destructive law passed in this spring's session of the Washington Legislature which ends medical marijuana as state patients have known it for 17 years.