Canada: Supreme Court Rules Medical Marijuana Legal In All Forms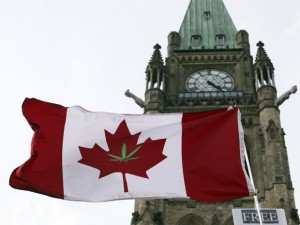 By Steve Elliott
Hemp News
Canadian medical marijuana patients can legally use all forms of cannabis, the Canadian Supreme Court unanimously ruled on Thursday.
Medicinal cannabis patients will now be able to legally consume marijuana, not just smoke it, reports the BBC.
Cannabis oil is now legally allowed instead of only dried marijuana flowers, making it easier to infuse food products.
The right at stake was described by the British Columbia Civil Liberties Association as the right to personal autonomy in medical decision-making – no matter what medical science may say about the wisdom of the decision, reports Sean Fine at The Globe and Mail.
The case began back in 2009 when former head baker Owen Smith of the Cannabis Buyers Club of Canada, a British Columbia collective, was charged with trafficking and unlawful possession of marijuana. Smith was caught baking 200 cannabis cookies, reports Trinh Theresa Do at CBC.
A B.C. judge acquitted Smith and gave the Canadian government a year to change laws about marijuana extracts. The case then went to the Supreme Court.
Restricting patients to dried marijuana flowers for medicine was declared "null and void" by the court. Now, Canadians who qualify for medicinal cannabis can legally have their cannabis cookies and tea.
Physicians in Canada decide who is eligible to use marijuana medically. It is approved for such ailments as Crohn's, seizures, HIV and nausea.
The Supreme Court ruled that banning possession of non-dried forms of marijuana is "contrary to the principles of fundamental justice because they are arbitrary; the effects of the prohibition contradict the objective of protecting health and safety."
"I'm proud and really happy today for all those people who are going to benefit from this ruling," Smith said in a press conference in Victoria, B.C. He called it "a very emotional day."
But Canada's federal health minister wasn't pleased with the decision. "Frankly, I'm outraged by the Supreme Court," blustered Health Minister Rona Ambrose.
"Let's remember, there's only one authority in Canada that has the authority and the expertise to make a drug into a medicine and that's Health Canada," she blustered during a press conference. "Marijuana has never gone through the regulatory approval process at Health Canada, which of course, requires a rigorous safety review and clinical trials with scientific evidence."
Ambrose said the Canadian federal government will fight against the Supreme Court's "normalization" of marijuana. "We will continue to combat it," she stubbornly said.
"We will continue our anti-drug strategy, we will target youth with the message that marijuana pot is bad for them," she cluelessly said. "We'll continue to work with medical authorities across the country to make sure they're involved in the message."
But those who actually listen to patients-- rather than those who consign themselves to irrelevance by impotently spouting long-dead points trying to win a debate that was lost a long time ago -- applauded the decision. "It's a positive -- it's a great thing for patients ... and people who need extracts who can't smoke their cannabis or don't even want to in the first place," said David-George Oldham, founder of The ARC, a consortium of cannabis patients, doctors, activists and chemists.
"Taking a [cannabis] pill is a lot more sensible and having pills stocked in my cupboard makes a lot more sense than having just raw cannabis out and about in my house," Oldham said.
Photo: The Daily Chronic