Colorado: Medical Marijuana Researchers To Convene At National Jewish Health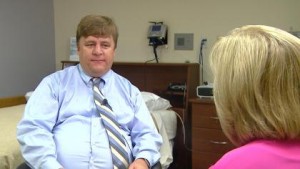 Researchers to share information about Colorado-funded research and the state of knowledge about medical marijuana
Researchers from around Colorado and the nation will gather at National Jewish Health to describe their research and current knowledge about marijuana as a medical therapy during the Marijuana and Health Symposium, 8 a.m. to noon, Saturday, June 13.
The symposium will feature presentations by researchers funded by the state of Colorado to study the safety and effectiveness of marijuana as a treatment for medical conditions ranging from pain to epilepsy, post-traumatic stress syndrome, irritable bowel syndrome and insomnia.
"As more and more states legalize medical marijuana, there is an urgent need for reliable scientific research to understand what marijuana can and cannot do as a medical treatment," said Russell Bowler, MD, PhD, professor of medicine at National Jewish Health and co-organizer of the symposium. "This symposium will provide a forum for researchers to discuss existing knowledge about medical marijuana and their ongoing work to learn more about its potential benefits and hazards."
"There are studies that suggest that many marijuana users use marijuana for sleep," Dr. Bowler said, adding that it makes sense, reports CBS4. "There are receptors for the active ingredient in marijuana in the region of the brain that has been associated with the control of sleep."
Sleep research by Bowler and other medical researchers at National Jewish Health is one of nine medical marijuana studies approved by the Colorado Board of Health and funded with $9 million in grants. The studies will be performed on how cannabis could help treat PTSD, epilepsy, children with brain tumors and more.
The symposium will also feature presentations on patient perspectives, challenges in research and international research. It will end with an interactive panel discussion and Q & A. The symposium is accredited for continuing medical education for health professionals.
The conference is sponsored by National Jewish Health, with additional support provided by the Colorado Department of Public Health and Environment and the Cannabis Outreach and Education Health Foundation.
Photo of Dr. Russell Bowler: CBS4