Delaware: Senate Committee Approves Bill To Remove Criminal Penalties For Marijuana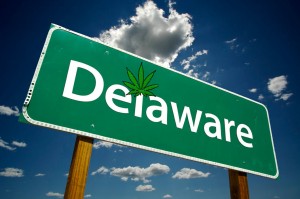 The Delaware Senate Judiciary Committee on Wednesday approved a bill 4-2 that would remove criminal penalties and potential jail time for simple adult marijuana possession and replace them with a civil fine similar to a traffic ticket. The measure will now be considered by the full Senate.
HB 39, introduced by Rep. Helene Keeley (D-Wilmington South) in the House and sponsored by Judiciary Committee Chair Margaret Rose Henry (D-Wilimington East) in the Senate, would make possession of up to one ounce of marijuana by an adult a civil violation punishable by a $100 fine with no possibility of jail. Under current Delaware law, possession of up to one ounce of marijuana is a misdemeanor punishable by up to a $575 fine and up to three months in jail.
The House of Representatives approved HB 39 on June 2, and Gov. Jack Markell (D) said in a March letter to the editor of The New York Times that he is "hopeful that [his] state will decriminalize possession of small amounts of marijuana."
"Adults should not face potentially life-altering criminal penalties simply for possessing a small amount of marijuana," Sen. Henry said. "The potential impact for employment, housing, and education are too severe under current law for the violation."
More than two-thirds of Delaware voters (68 percent) support removing criminal penalties for marijuana possession and making it a civil offense, punishable by a fine of up to $100 with no possibility of jail time, according to a survey conducted in March 2014 by Public Policy Polling. Only 26 percent said they were opposed. Full results are available at: https://www.mpp.org/states/delaware/delaware-poll-march-2014/.
"Every objective study on marijuana has concluded that it is less harmful than alcohol to the consumer and to society," said Robert Capecchi, deputy director of state policies for the Marijuana Policy Project (MPP). "Law enforcement officials' time and resources would be better spent addressing serious crimes instead of punishing adults for marijuana possession.
"Jail time should not even be on the table when it comes to simple marijuana possession," Capecchi said.
Nineteen states and the District of Columbia have adopted laws removing the threat of jail time for simple marijuana possession. The Illinois General Assembly approved a similar measure in May, which is now awaiting action from the governor.