Global: National Cannabis Patients Wall Humanizes Patients In 40 Countries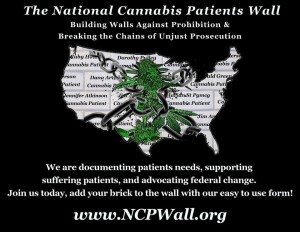 The National Cannabis Patients Wall, a nonprofit advocacy organization working to humanize and change medical marijuana laws founded in 2014 in Tennessee, now reaches 40 countries around the world and has more than 17,000 members, organizers announced on Tuesday.
"We endeavor to help patients find support, encourage and support activism while educating the public about medical cannabis and its advantages, and raising funds to build display walls to represent patients from every state," explained NCPW founder Dana Arvidson of Nashville, Tennesseee.
"The National Cannabis Patient's Wall not only signifies our solidarity as patients in need of a safer and effective alternative to harsh pharmaceuticals, but also the barriers we must overcome, our current State and Federal laws, which keep us from the medicine we desire and need," Arvidson said.
Arvidson said the group, which maintains a prominent social media presence including on Facebook, YouTube, Twitter, and Google+, aims to help patients in every state and country reverse the prohibition of cannabis this year, "and to end the needless suffering, before more people die."
"We work daily to assist the repeal of marijuana prohibition, opening the door to common sense regulation," Arvidson said.
According to Arvidson, one of the best parts of NCPW is letting patients know they aren't facing illness and often legal persecution all alone.
"We provide patients with a place to gather with others who feel the same way," she said. "It truly helps when a patient knows they are not along in their struggle.
"We also share patients' stories of healing or of their search for healing, and many times their struggle for legalization in states denying them legal access," Arvidson said. "We do our best to connect them with appropriate doctors and dispensaries in their area."
According to Arvidson, the National Cannabis Patients Wall website offers tools which activists across the U.S. and the world can use to gather patients for the Wall, signatures for a federal petition, and to distribute educational materials.
"We encourage activism and have a page that allows Facebook users to click a box and be included with others in their county, so they can work together to garner change," Arvidson said. "This tool, along with working with other groups and communities, is the backbone of our 'unity' program. On our 'Cannabis In Your Area' page, we have information for each state and current legislation in that state, along with links on how to find out your local laws."
Website www.NCPWall.org
Facebook page/general cannabis information www.facebook.com/NCPWall
Studies www.facebook.com/groups/ncpwstudies
Bills www.facebook.com/groups/ncpwallbills
Canadian Wall www.facebook.com/groups/451164831683660/
YouTube channel https://www.youtube.com/user/NCPWall
Twitter account http://www.twitter.com/NCPWall
Google+ www.google.com/+NcpwallOrgIntl