U.S.: Senators Tell Federal Agencies To Remove Barriers To Medical Marijuana Research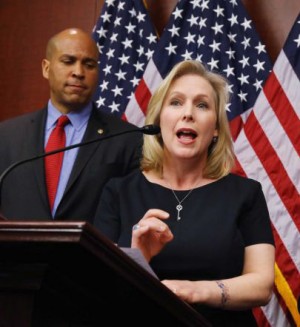 FDA and NIDA officials express support for ending NIDA's DEA-mandated monopoly on marijuana available for research purposes
By Steve Elliott
Hemp News
At a Wednesday hearing, Senators Cory Booker and Kirsten Gillibrand pressed federal officials to eliminate political barriers that are preventing research on the potential medical benefits of marijuana. The hearing, "Cannabidiol: Barriers to Research and Potential Medical Benefits," was held by the Senate Caucus on International Narcotics Control.
Officials from the National Institute on Drug Abuse (NIDA) and the Food and Drug Administration (FDA) echoed the Senators' concerns and expressed support for removing barriers to research that have been created by the Drug Enforcement Administration (DEA).
NIDA has a DEA-mandated monopoly on the supply of marijuana available for research purposes, which is grown at the University of Mississippi. Researchers have repeatedly criticized the DEA for refusing to license additional marijuana producers, which they say is preventing the study of marijuana's medical benefits and the development of marijuana-based medicines.
They have also criticized the poor quality and low potency of the scant marijuana that is currently available, which they say further hinders meaningful research. A DEA administrative law judge ruled that licensing additional producers would be in the public interest, but the DEA has refused to follow the non-binding ruling.
NIDA Director Dr. Nora Volkow indicated that she agrees the monopoly hinders research and that it should be ended so that additional suppliers can be licensed. The head of the DEA Office of Diversion Control, Deputy Assistant Administrator Joe Rannazzisi, gave no indication that the DEA agrees such a monopoly is a problem or has any plans to license additional producers.
"The DEA is waging an irrational war on marijuana that is costing people their lives," said Dan Riffle, director of federal policies for the Marijuana Policy Project (MPP). "They are standing in the way of research and the development of potentially life-saving medications.
"While the DEA is clinging to reefer madness, there are seriously ill people clinging to their lives who could be benefitting from medical marijuana," Riffle said. "The DEA is preventing children with seizure disorders and people suffering from diseases like cancer and AIDS from accessing a medication that their doctors recommend and could dramatically improve the quality of their lives.
"When President Obama took office, he mandated that policymaking in his administration be guided by evidence and the scientific process rather than politics and ideology," Riffle said. "Clearly, the DEA didn't get the memo.
"It's absurd that marijuana is still classified as a Schedule I drug with 'no accepted medical use,'" Riffle said. "Scientists need to be able to do the important work of developing marijuana-based medicines and putting them through the FDA's approval process.
"Marijuana is far less harmful than alcohol, and like alcohol it should not be included in federal drug schedules," Riffle said.
"During today's hearing we heard Nora Volkow, the head of National Institute on Drug Abuse (NIDA), acknowledge that researchers would benefit from ending the monopoly that NIDA holds on producing cannabis for research," said Christopher W. Brown, press secretary at Americans for Safe Access (ASA). "The DEA-mandated NIDA monopoly on producing cannabis is slowing down research that everyone agrees needs to move forward quickly; it's long past the time we let other professional growers produce cannabis for researchers."
"Marijuana is the only schedule one drug that is forced to deal with this single government enforced monopoly for access to study drug, said cannabis PTSD researcher Dr. Sue Sisley. "This monopoly has proven over and over again that they are incompetent and incapable of providing the various strains that are requested by scientists in a timely manner."
In 2014, Dr. Sisley received approval from the FDA for a major study on cannabis use to treat post-traumatic stress disorder; however the study continues to be on hold, as NIDA has not been able to produce the requested strains of cannabis.
More Information
Ending NIDA's Monopoly: ASA Backgrounder
Office of National Drug Control Policy Lifts Public Health Service Review on Marijuana Research
Photo of Sens. Cory Booker and Kirsten Gillibrand: Mark Wilson