California: GreenRush Launches On-Demand Medical Marijuana Marketing Platform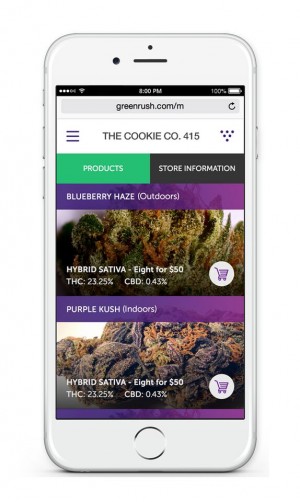 GreenRush, an on-demand medicinal cannabis marketing and technology platform, on Thursday announced the launch of its mobile-optimized web service with delivery and express pickup options to the San Francisco Bay area market.
Designed as a dispensary-focused platform, GreenRush works with eCann Inc, one of the largest investors in the cannabis industry, to equip businesses with the foundation necessary for market growth. GreenRush provides access to a new patient acquisition channel by developing brand loyalty through a simplified, one-time patient verification and streamlined order/reorder process. GreenRush also provides comprehensive delivery and logistics tracking for customer care.
"The cannabis industry lacks the comprehensive comparison tools needed for patients," says GreenRush founder and CEO Paul Warshaw. "We designed our platform with convenience in mind, with services that increase patient satisfaction and showcase innovative dispensaries."
"Many companies are competing for a share of the cannabis delivery market," said Steve DeAngelo, executive director at Harborside Health Center. "So far, we feel most comfortable with the GreenRush business model. It allows dispensaries to retain full control over the fulfillment process and maintain the quality of the medicine, and is more reasonably priced than other competitors."
GreenRush's platform allows patients to seamlessly browse through detailed menus of product specific to a dispensaries' selection of marijuana strains, medicinal edibles, extracts, and tinctures. GreenRush's simple interface unlocks the breadth of the dispensaries' inventory at a patient's fingertips, transforming the Cannabis experience.
"Today, we live in a world where everything can be delivered directly to you at a moment's notice – medicinal cannabis should be no different," Warshaw said. "GreenRush targets the needs of both patients and dispensaries by offering a platform engineered for our connected world."
How GreenRush works for patients
• Browse: Patients can search menus of medicinal cannabis products from local dispensaries by using their current location or entering a specific address.
• Verification: Simple, one-time verification process stored, secured, and encrypted via a HIPAA compliant database.
• Order: GreenRush says it is the most convenient way to seamlessly order from a patient's mobile device or desktop. Past orders are saved to provide reorder options with one quick tap.
• Delivery or Pickup: Once an order is confirmed, it can be tracked from the dispensary to the patient's doorstep.
How GreenRush works for dispensaries
• Patient Acquisition: GreenRush says it will deliver the maximum amount of revenue by providing a consistent way to promote new and existing products on the platform.
• Customer Service: GreenRush's says its superior customer care offers order support over email, phone, mobile and web, facilitating any customer questions.
• Payment: It's free to sign-up and free to use. GreenRush only gets paid on orders sent through the platform to dispensaries.
• Promote: GreenRush's team owns and operates hundreds of cannabis targeted websites with an audience made up of millions of potential patients. GreenRush says it will grow dispensaries' client base and brand their businesses through their 15-year track record of online marketing efforts.
For more information, visit GreenRush.com.