Oregon: Portland Police Release Guide To Legal Marijuana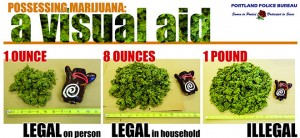 Guide Compares An Ounce Of Weed To A Voodoo Doughnut
By Steve Elliott
Hemp News
With Oregon set to legalize marijuana on July 1, the Portland Police Bureau has released a guide for cannabis consumers which explains just how much weed is legal under the new law.
The guide explains how much weed you can carry "in the most Portland was possible," reports KATU, by comparing an ounce to the size of a Voodoo doughnut. (Voodoo Doughnuts, recently experienced for the first time by this reporter, is a Portland institution, popular among both cannabis users and the public at large for its large, tasty creations.)
While Oregon's law allows just an ounce to possess while you're out and about, you can have up to 8 ounces at home. Anything more is still illegal.
Driving under the influence of marijuana can get you a ticket, as can using it in a public place. But if you see someone smoking pot in public, police urge you NOT to call 911, unless there is an immediate public safety risk; they truly don't want to be bothered. Even the COPS know that it's a dumb waste of their time and your money to arrest folks for smoking weed.
The same goes for any scenario where you smell marijuana from your neighbor's home or yard; if it's bothering you, Portland police said you should discuss it directly with your neighbor and not call 911.
Transporting marijuana from Oregon to Washington -- as tempting as that might be, sine it's going to be a lot cheaper in Oregon -- would be a violation of federal drug laws.
Graphic: KATU