California: Future of Humboldt County's Marijuana Industry Discussed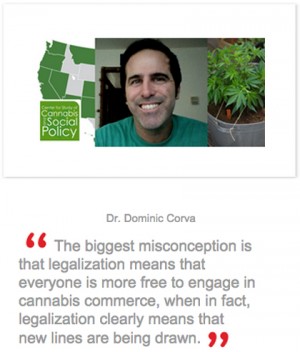 Ganjapreneur, an online cannabis business resource, interviews Dr. Dominic Corva in the latest episode of its series of podcast interviews featuring successful cannabis entrepreneurs and industry experts.
Dr. Corva is a political geographer and public policy scholar who has written extensively on both international drug policy in the Western Hemisphere as well as the political economy of cannabis agriculture in southern Humboldt County. In the past he has worked as a professor at Sarah Lawrence College and Humboldt State University, though these days he is executive director at the Cannabis and Social Policy Center (CASP).
The interview is hosted by Shango Los of the Vashon Island Marijuana Entrepreneurs Alliance. Over the course of the interview, the two discuss the past and future of international drug policy, the flawed implementation of Washington's I-502 market, the impact of data-tracking on legal marijuana, and the future of Humboldt County cannabis growers.
"The biggest misconception is that legalization means that everyone is more free to engage in cannabis commerce, when in fact, legalization clearly means that new lines are being drawn," Dr. Corva explained.
Though his work has been dedicated to aiding and understanding business interests in the cannabis industry, Dr. Corva is openly thankful for the activism efforts that brought us here: "As long as we're not moving backwards on the criminal justice side of it, then we're still, I think, moving a little bit in the right direction."
The full podcast is available on iTunes and on Ganjapreneur's website.