Colorado: Denver Drive Underway To Allow Marijuana Use In Bars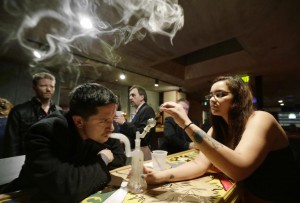 By Steve Elliott
Hemp News
If cannabis and alcohol are both legal for adult consumption, it would only make sense that it's OK to consume both of them socially in a bar -- wouldn't it?
That's the thinking behind a campaign underway in Denver to ask voters about allowing marijuana use in bars and other places that only allow adults over 21, reports Kristen Wyatt of the Associated Press.
Activists need about 5,000 signatures in order to qualify the question for this November's ballots.
The initiative would allow bars to permit cannabis use as long as customers bring their own stash and obey clean-air laws. That translates to either bringing marijuana infused edibles, or smoking outside on the patio, the way tobacco is regulated now. Outside smoking sites couldn't be publicly visible.
"Marijuana's now a legal product for adults in Denver, and it's really time that we give adults a place to use it legally and socially," said Mason Tvert of the Marijuana Policy Project (MPP), which led the 2012 Amendment 64 campaign to legalize recreational cannabis in the state.
"We shouldn't be requiring that you sit at home if you choose to use marijuana as an adult," Tvert said.
Recreational cannabis consumption is illegal in Colorado if used "openly and publicly or in a manner that endangers others." But the law doesn't bar use in private, 21+ clubs; the Denver measure would just clarify what qualifies as a private club.
Marijuana dispensaries are prohibited from allowing on-site consumption of their products, and also from selling alcohol or food that doesn't contain cannabis. The Denver proposal would allow only bring-your-own consumption.
The cities of Pueblo and Nederland already allow on-site consumption of marijuana at over-21 clubs. Colorado Springs, the state's second-largest city, has several marijuana clubs that are "tolerated," though not specifically allowed. Colorado Springs Mayor John Suthers has said he wants the clubs to be regulated, the Colorado Springs Gazette reported on Saturday.
The Denver City Council has already rejected weed-friendly bars. Denver has several grey-area clubs where patrons are allowed to use cannabis for a membership fee, but the city has occasionally arrested patrons at those clubs for "public consumption."
Tourists have no good options when it comes to legally consuming the marijuana they've just bought, argue supporters of the Denver ballot measure. Among those supporters is Jane West, the Colorado Symphony Orchestra events promoter who last year arranged a "Classically Cannabis" concert.
Denver threatened to block the concert, pointing to public consumption laws. The Symphony recast the concert as private, BYO fundraisers, and the city then backed down.
West was actually convicted of a misdemeanor last year for organizing another marijuana friendly event. "An eight-person SWAT team descended on the evenet and shut down the brunch," she said. She became one of the first to sign the Denver petition.
Organizers must turn in the signatures by early August.