Washington: Owner Arrested In Raid Of Vancouver Medical Marijuana Business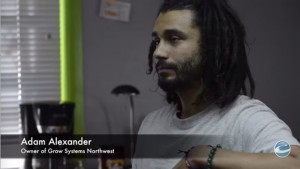 By Steve Elliott
Hemp News
Officers with the Clark-Vancouver Regional Drug Task Force on Thursday seized and carried away dried marijuana, cannabis plants, money, and growing equipment from Grow Systems Northwest, a business on St. Johns Boulevard in Vancouver, Washington.
Law enforcement said the store isn't licensed as a recreational cannabis retailer and doesn't operate within the state's medical marijuana law, reports Emily Gillespie at The Columbian. Police claim Grow Systems Northwest has been selling $200,000 worth of pot every month.
The store caught the attention of law enforcement back in April when a Vancouver police officer responded to the business on a report of a stolen vehicle. The owner, Adam Alexander, gave the officer a tour, according to Vancouver police Sgt. Pat Moore, the lead drug detective in the case.
Alexander helpfully told the officer that he was selling marijuana from his house, but then his business became too big so he moved it to the storefront on St. Johns Boulevard, Moore said. The officer told the Clark-Vancouver Drug Task Force, and Moore began investigating.
Grow Systems Northwest's website says it offers medical marijuana delivery. "We have been serving the Clark County area for many years now and would love to have you as one of our regulars!" the website reads.
A few weeks after Moore started his investigation, another Vancouver police officer was sent to the store. The manager of Grow Systems Northwest told the officer that the business is a marijuana consultation service which provides advice to people trying to grow cannabis, Moore said. Marijuana is then given to customers on a donation basis.
The officer then contacted owner Alexander, Moore said. "Alexander explained the business as a medical marijuana facility that donates marijuana to clients," Moore said of the officer's report. His employees, Alexander told the officer, are also "caregivers" who deliver marijuana.
"Nothing he's doing here is legal," Moore said. Moore's knowledge of the medical marijuana law, though, may be somewhat limited, as he then claimed that patients are allowed to give away marijuana to other patients (they are).
Moore claimed the the code for buying marijuana was "minutes," with "one minute" of consultation equaling one gram of weed.
Brian Smith, spokesman for the Washington State Liquor Control Board, said the business didn't have a license to sell recreational marijuana, nor had it ever applied for one.
During two undercover buys, store employees said the company sees from 100 to 200 customers a day, and can make up to $10,000 a day, Moore claimed. In one six-day span, Moore claimed, he counted more than 950 cars going through the drive-through area.
"We need to send a message to everybody else that if you do this, we're going to come after you," Moore said.
Officers served warrants at three locations on Thursday morning: Grow Systems Northwest; Alexander's house, where detectives said he had a marijuana grow; and his father's house next door, where they said he had a second grow.
Searching the houses, officers found grows of about 12 plants in each, along with more than $15,000 in cash stashed throughout the houses.
Officers seized "numerous" marijuana plants, more than 10 pounds of dried pot, and documents such and ledgers and receipts at the business. Detectives interviewed Alexander at the business, and he defended what he was doing, comparing his business to that of a wine consultant.
"Granted, I'm walking a fine line," Alexander said as he talked to detectives. "I really was embracing this loophole."
Alexander argued with detectives for more than an hour, but still walked away in handcuffs. He was arrested on suspicion of three counts of manufacturing marijuana, possession of marijuana with intent to deliver, 14 counts of delivery of marijuana and several counts of money laundering.