U.S.: Marijuana Straight Talk TV Show Prepares Third Episode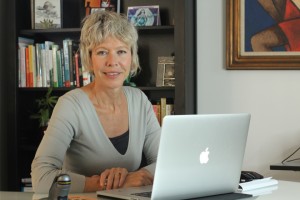 When it comes to the complicated and controversial subject of cannabis, Free Speech TV's "Marijuana Straight Talk" show, hosted by Becca Williams, boldly goes where no one has gone before, according to the show's producers -- and viewers seem to be going along for the ride in big numbers.
The show was the network's second most popular weekly current affairs program in terms of households reached, according to Free Speech TV. Additionally, Rentrak, a media measurement and analytical services company, reported that "Marijuana Straight Talk" was Free Speech TV's third most popular in terms of TV ratings and average audience size.
The network's general manager, Jon Stout, said he was surprised by "Marijuana Straight Talk"'s reception. "It's a remarkable response — given that this show is just out of the starting gate," he said.
After riding a tidal wave of print and media coverage, cannabis has come crashing into the public consciousness. Now, more than ever, Americans are marijuana-minded.
"Marijuana Straight Talk" serves up a riveting and entertaining combination of news, cultural events and anecdotes about the "cannabis community" that's crafted to satisfy everyone's curiosity, according to the show's producers. For example, one segment in the show's popular second episode covered the government's adamant stance against the use of cannabis for medicinal purposes. A guest on the program who's head of Veterans for Medical Cannabis Access pointed out that vets who seek relief from their injuries by using marijuana are often labeled drug addicts by the VA and summarily refused further treatment.
Segueing from the serious to the light-hearted, the show's Artistic Say portion featured Highah Seekah with his ode to cannabis, "Free Up the Hemp." "Marijuana Straight Talk"'s third episode in July, showcases Jamaican artist and activist, Jah9, singing about marijuana rituals that abound in her island nation.
Episode three will also kick off a series on the controversy of treating pets with cannabis. The show's cannabis culture maven, Leland Rucker, paints an imaginative and entertaining picture of how marijuana medicine will be advertised on TV. Is cannabis running your life, or are you in charge? Another guest offers her own unique viewpoint. All in all, "Marijuana Straight Talk"'s July show is destined to propel the show's ratings even higher.
"Marijuana Straight Talk" is available for viewing via the Free Speech TV network on DISH Network channel 9415 and DIRECTV channel 348 as well 200 part-time cable affiliates (a universe of 40 million households). The show can also be seen with the Free Speech TV app on Roku. The network has placed the first two pilots on video on demand at freespeech.org/marijuanastraighttalk.
"Marijuana Straight Talk" is hosted by Becca Williams, a TV news producer and journalist as well as former anchor and producer for Chicago's NPR affiliate WBEZ. As a registered dietitian nutritionist, she covered alternative and holistic health for Dragonfly Media magazines as their national health editor.
Williams' comprehensive work in health journalism opened her eyes to the potential of cannabis in science and medicine. "I'm grateful for the many activists who have done the heavy lifting, those who have worked to decriminalize cannabis and those who are helping to change America's mindset," Williams said. "Their efforts have made this time the right time for Marijuana Straight Talk."
Williams invites those who would like to get a preview of what her new show is about to watch any of the numerous Marijuana Straight Talk short segments currently available at youtube.com/user/MJStraightTalk.