Colorado: Health Officials Reject Medical Marijuana For PTSD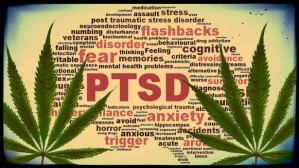 By Steve Elliott
Hemp News
In a shameful disservice to patients -- including military battle veterans -- Colorado health officials on Wednesday voted against adding post-traumatic stress disorder (PTSD) to the list of conditions eligible for treatment with medical marijuana.
The 6-2 vote came despite a recommendation from the Colorado Chief Medical Officer and a panel of physicians to make PTSD the first condition added to Colorado's medical marijuana eligibility list in 15 years, reports The Associated Press.
Colorado Board of Health members said they weren't swayed by the recommendations, claiming studies on using cannabis for PTSD are lacking.
"We can't have physicians counseling people in favor of it because we don't have data to show it's correct," claimed Jill Hunsaker-Ryan, one of the board members who voted against allowing marijuana for PTSD.
The vote was the third time the Board of Health has rejected petitions to add PTSD to the list. About 60 PTSD patients attended the hearing, some loudly jeering the decision. Ironically, a few were asked to leave the meeting -- board members apparently didn't want to be bothered with the opinions of actual PTSD patients.
"They just told every patient here, 'We don't care about you,'" patient advocate Teri Robnett said after the vote.
Colorado allows adults 21 and older to buy recreational marijuana, with no doctor's authorization needed. But medical cannabis is taxed at just 2.9 percent, compared to at least 19 percent for recreational pot.
Medical marijuana patients are also allowed to possess two ounces of cannabis instead of just one.
About 113,000 people are registered as medical marijuana patients in Colorado; around 6,300 of them are under 21, according to data from May. More than 93 percent of current patients list pain as their qualifying condition.
Dr. Larry Wolk, chief medical officer in Colorado, doesn't have a vote on the Board of Health, but he said that although he once opposed using marijuana to treat PTSD, he changed his mind because of widespread reports of PTSD sufferers being forced to claim pain is their ailment in order to get medicinal cannabis.
PTSD patients are using marijuana anyway, Dr. Wolk said, so they'd be better off talking to a doctor about it "rather than self-medicating through the legalized program."
State Rep. Jonathan Singer (D-Longmont) told the board his constituents with PTSD were using medical marijuana to treat themselves. He said the current law forces PTSD patients to ask budtenders -- not doctors -- about cannabis treatments.
"We have to balance our science and our humanity together," Rep. Singer suggested.
The Medical Marijuana Scientific Advisory Council recommended PTSD be added to the list back in April, saying it could be added for a four-year trial. But Colorado Board of Health members sided with the American Psychiatric Society, a hidebound organization which still opposes the addition.
"The science we have ... overwhelmingly demonstrates more harm than good at this point in time," claimed Dr. Doris Gunderson, testifying for the American Psychiatric Society.
Nine other states allow medical marijuana for PTSD.