Mexico: Drug Trafficker 'El Chapo' Is Folk Hero No. 1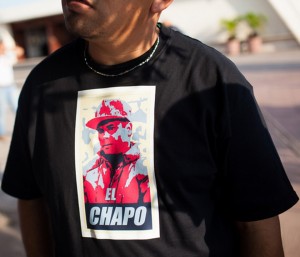 By Steve Elliott
Hemp News
In Sinaloa State, Mexico, where Joaquín Guzmán Loera -- better known as El Chapo -- was born, the notorious drug trafficker's spectacular escape through a hidden tunnel under what was supposed to be the most secure prison in Mexico has enhanced his status as an outlaw folk hero.
American officials claim Guzmán has contributed to "the death and destruction of millions of lives across the globe through drug addiction, violence and corruption," yet for many Mexicans, he is a combination of Robin Hood and billionaire, report William Neuman and Azam Ahmed for The New York Times.
El Chapo fought the law, and unlike the Bobby Fuller Four, he won. He beat what many Mexicans view as a corrupt ruling class, and Mexico -- just like America -- loves an outlaw.
"Why do people admire him?" said Adrián Cabrera, a blogger in Culiacán wearing a black T-shirt with a picture of El Chapo. "Because he's a living legend. He's like Al Capone. He's like Lucky Luciano. Like Tony Soprano. Like Scarface. He's like a character on a television show, except that he's alive, he's real."
Guzmán, born in the 1950s in a remote hamlet in an area known as the Golden Triangle -- which happens to be Mexico's prime marijuana growing region -- rose through the ranks of Mexican drug cartels until he came to head the biggest of the bunch, the Sinaloa cartel. When he was apprehended last year, the cops found him at the beach resort of Mazatlán in Sinaloa.
Forbes Magazine has included El Chapo in its list of the world's wealthiest people; Guzmán has an estimated worth of more than $1 billion. Many say that Guzmán helped poor residents, often in small ways. A family with a sick member might receive a visitor delivering money for treatment, some said, although none would point to a specific example.
El Chapo escaped from prison once before, reportedly hiding in a laundry cart, but his most recent breakout was more elaborate. He went through a sophisticated tunnel about a mile long, equipped with lights, ventilation and even a motorcycle on rails to evacuate the dirt.
Sinaloa last year ranked second in the Mexican government's ranking of murders per capita, at a level more than 2.5 times the national average, yet many residents feel the state is calmer than it would be without El Chapo's stabilizing influence.
"I feel better because we're protected," said Scarlett López, 22, who works at a finance company in Culiacán. "There are people who are a lot worse," she said. One gang called the Zetas, for instance, is known for cutting off people's heads.
The Mexican government has offered a reward of about $3.8 million for information leading to El Chapo's capture, but many residents said they didn't plan to help.
"The drug dealers do more for the people than the government does," said Eric Reyes, 33, a systems engineer from Mexico City. "If you live in a dealer's territory he treats you well. The government won't do anything for you."
Photo: The New York Times