Washington: Purple Haze Pot Shop Slapped With 2nd Citation For Underage Sales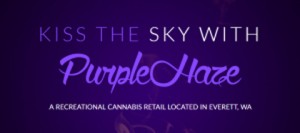 By Steve Elliott
Hemp News
Purple Haze, a recreational marijuana store in Everett, Washington, has become the only outlet in the state to be caught twice selling cannabis to minors, ironically calling to mind one of the themes of the 2012 I-502 legalization campaign, which was "illegal pot dealers don't ask for I.D."
Bonnie Arnestad, who owned two homes next door to the shop, wanted city leaders to keep it out, and now she feels totally vindicated, reports Joel Moreno at KOMO News. Gee, thanks, Purple Haze, for confirming all the worst stereotypes about marijuana, with the added insult of having done that under the I-502 banner.
Remember, owners of these recreational pot shops were the movers and shakers who convinced the Washington Legislature this past spring to pass SB 5052, which for all practical purposes, shuts down safe access through medical marijuana dispensaries in the state. Now that they've taken out the competition, do they feel comfortable doing the same things they were accusing the medical dispensaries of doing -- but which they never proved?
"I think they should have lost their license after the first one because that was less than six months from their opening," Arnestead said.
Investigators from the Washington State Liquor Control Board ran a series of decoy operations at 156 marijuana stores throughout the state. Purple Haze is one of 18 stores that sold cannabis to underage customers, and the only one, so far, to be caught doing it a second time.
Can you IMAGINE the outcry from these recreational marijuana merchants if 18 medical cannabis dispensaries were caught selling to minors? That's exactly the kind of accusations that got the medical shops shut down in the first place -- without the onerous need to provide any actual proof of wrongdoing.
The owner of Purple Haze said he is making changes, starting with new technology. In addition to checking IDs at the door, employees now run the cards through a scanner.
"This just verifies that it's a valid ID and a real ID," said employee Paul Henry. "It shows all the information that I check visually."
The owner said he has also introduced new training and "other measures" to keep employees on task about checking for underage customers.
"(The law) says to keep it away from children," Arnestad said. "Well, they are not doing a very good job about it."
Purple Haze faces a mandatory 30-day closure, although it has the right to an appeal. A third offense would cost the owner his retail marijuana license.