South Dakota: Native American Tribe Set To Begin Marijuana Sales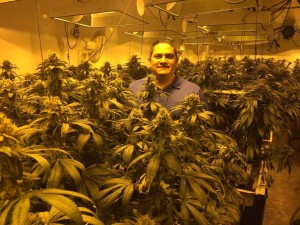 By Steve Elliott
Hemp News
Tourists in South Dakota may soon be able to go to a Native American reservation, buy a joint of marijuana for $10 to $15, then try their luck at the nearby casino.
The Flandreau Santee Sioux expect in December to become the first tribe in the nation to grow and sell cannabis for recreational use, taking the Obama Administration at its word when it says all 566 federally approved Indian tribes are free to enter the marijuana industry, reports Rob Hotakainen in the Bellingham Herald.
"The fact that we are first doesn't scare us," said tribal president Anthony "Tony" Reider, 38, leader of the tribe for almost five years now. "The Department of Justice gave us the go-ahead, similar to what they did with the states, so we're comfortable going with it."
Sixy strains of marijuana will be available from the tribe, according to Reider, who is hoping for hordes of visitors. He predicted that sales could bring in $2 million per month.
"Obviously, when you launch a business, you're hoping to sell all the product and have a shortage, like Colorado did when they first opened," he said.
But other tribes haven't been as gung-ho about cannabis. "Look at Washington state, where marijuana's completely legal as a matter of state law everywhere, and you still have tribes adhering to their prohibition policies," said Robert Odawi Porter, former president of New York's Seneca Nation.
Washington state Rep. Denny Heck, a Democrat who said he works on tribal issues every day, said the issue hadn't been brought up to him by the tribes in his district, and he believes he knows why. "We're all aware of the painful history of alcoholism in Indian Country," he said.
Tribes got the green light to sell cannabis last December, when the Department of Justice said it was advising U.S. Attorneys not to prosecute tribes if they do a thorough job of regulating themselbves and make sure that cannabis doesn't leave tribal lands.
But federal prosecutors maintain the "discretion" to intervene whenever they deem necessary -- and that's a big sticking point for many tribes.
"This administration is very pro-tribes, very supportive," said W. Ron Allen, chairman of Washington state's Jamestown S'Klallam Tribe. "What if the next one isn't?"
Many of Washington state's 29 tribes want assurances from the feds that they won't lose millions of dollars in federal money if they sell a drug that's illegal under federal law. "We're not getting definitive answers back," Allen said.
"There's a number of tribes that are very aggressively looking into it and trying to sort through all the legal issues," Allen said. "The rest of us are just kind of on the sidelines watching."
Many tribes in the planning or conceptual stages of entering the marijuana business watched with alarm earlier this month when federal law enforcement agents swooped down on tribal land in Modoc County, Calif., seizing 12,000 cannabis plants and more than 100 pounds of processed marijuana.
Federal authorities claimed they raided the operation because the tribes planned to sell the weed on non-reservation land. "That's a warning shot to Indian Country that this isn't carte blanche to do whatever you want, even in a place like California," said Blake Trueblood, director of business development for the National Center for American Indian Enterprise Development, which is based in Arizona.
Marijuana could boost tribes economically much like casino gaming, according to Trueblood, who said they'd have the best opportunities in states like New York and Florida, where demand for marijuana is strong but the drug hasn't been legalized either medically or recreationally.
"Ultimately, I think you'll see legal marijuana in every state," Trueblood said. "I think that's fairly inevitable, even in very conservative places like Florida."
Reider's tribe plans to sell both medical and recreational marijuana. Minors will be allowed to consume marijuana if they have a doctor's recommendation. A tribal ordinance passed June 21 limits adults 21 and older to buying one gram of marijuana at a time for recreational use, no more than twice a day.
"We really don't want the stuff getting out to the street," Reider said. "So we're going to have like a bar setting where they'll be able to consume small amounts while on the property."
Reider said the tribe plans to start 6,000 marijuana plants in October. A bowling alley is being renovated for a cannabis consumption club that will include four private rooms. The tribe may consider allowing pot smoking in its casino in the future, according to Reider.
"When we started looking into it, it's comical at first, but then you realize it's an amazing business," Reider said. "It's highly regulated, and we're used to the regulation from operating our casino. We've got security and surveillance."
Reider said that pot profits could be used to build a facility for those addicted to alcohol, prescription drugs and meth. "We don't have a recovery center on the reservation right now," he said.
Photo: Tony Reider