Oregon: Kaya Holdings Opens New Marijuana Grow and Manufacturing Complex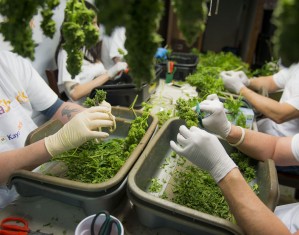 Kaya Holdings, Inc. on Wednesday announced that it has signed a lease on a 6,000 square foot facility in central Portland to serve as the company's expanded marijuana and cannabis manufacturing complex and West Coast operations base.
The company announced it will consolidate Kaya Farms and the newly acquired assets of OC Harley Gardens, including equipment, plants and all related licenses into the new facility for a substantially expanded grow with significantly increased volume capacities. "The Grow will continue uninterrupted to produce high quality, connoisseur-grade marijuana, as the expansion occurs to prepare the Company for the October 1st commencement of recreational sales in Oregon," a prepared statement reads.
"Additionally, the new facility allows for industrial level marijuana product manufacturing for our coming roll-out of proprietary strain-specific concentrates, extracts and related products, as well as the establishment of a commercial grade kitchen to produce a complete Kaya Kitchens line of cannabis-infused baked goods and candies," the announcement reads.
"This new facility allows us to aggressively expand our Grow volumes as we continue to prepare for recreational sales, permitting us to maintain quality standards and broaden our in-store selections," said Kaya Holdings CEO Craig Frank. "This space provides us with the opportunity to grow a substantial amount of high quality marijuana and manufacture proprietary strain-specific concentrates, extracts, edibles and related products, for sale through our retail network as well as additional distribution channels, permitting us to maintain quality standards and broaden our in-store selections.
"This facility is yet one more critical step toward being properly positioned to maximize the potential presented by recreational sales," Frank said.
Kaya Holdings hailed Oregon Governor Kate Brown's signing into law the bill passed by both the Oregon House and Senate, authorizing duly licensed medical marijuana dispensaries to lawfully sell up to 1/4 of an ounce per transaction to any adult age 21 or older.
"This was the right decision for the Governor and demonstrates her commitment to meeting the will of Oregonians, who passed Amendment 91 last November by a sizable margin," Frank said. "We applaud the Governor and look forward to participating in this historic moment in Oregon's, and indeed the United States' path toward ending the prohibition against marijuana."
Photo: Kaya Shack trimmers in action - Kaya Holdings