Arizona: Scientific Botanical Leasing Closes First Round $800K Funding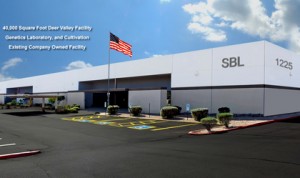 Cpompany Rolls Out IRA and Qualified Plan Investment Offering
Scientific Botanical Leasing, specializing in engineering and development of cannabis cultivation and related manufacturing facilities, on Wednesday announced that it has finalized its first round funding totaling $800,000, and has opened its Series 2015B offering to new investors ($25,000 minimum, $1.5 million maximum offering, accredited investors only, 506C).
The Series 2015B offers commercial real estate secured Notes, which can be purchased by IRA, Qualified Plan and other investors that meet the offering requirements.
The CEO of Scientific Botanical Leasing, Brent Nerguizian, touched on the need for organized, legally compliant, secure investment alternatives with real equity and capable sponsorship. "After 30 years of managing real estate investments and hedge funds, it is exciting to finally be able to offer a highly structured, legally compliant, secure investment in commercial real estate related to the cannabis industry," Nerguizian said.
The company has executed lease agreements for its facilities with an Arizona state licensed dispensary for a term of 10 years. The funds will be used to complete the $1.7 million total of tenant improvements, payoff bridge financing and complete tenant signing incentives.
The company's facilities include proprietary facility operating software, clean room standards and comprehensive support systems to give the company tenant a competitive advantage in providing pharmaceutical grade, organic based cannabis products on a repeatable basis at competitive prices.
Scientific Botanical Leasing engineers, develops and provides proprietary facility operating and management software for marijuana cultivation and related product manufacturing facilities that are leased to state licensed dispensaries in Arizona.