California: Lt. Gov. Gavin Newsom Says Golden State Will Legalize Marijuana In 2016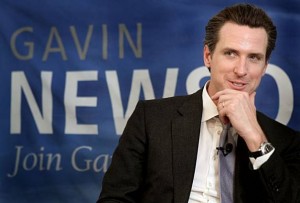 By Steve Elliott
Hemp News
California voters will legalize, tax and regulate marijuana for adults in the 2016 general election, Lt. Gov. Gavin Newsom predicted on Real Time with Bill Maher on Friday. "I'm leading the effort," Newsom added.
"As some folks may know, we're very likely to have a ballot initiative in 2016 and we have strong confidence that we'll win," Newsom said, reports David Downs at SF Gate.
"We gotta do it right and be thoughtful and deal with the legitimate concerns folks have about our children, and not allowing Big Tobacco come in and do Big Marijuana," Newsom said. "So we want to do it in a very thoughtful way and we want to have that opportunity next year."
Lt. Gov. Newsom has been working with a Blue Ribbon Commission on legalization; its findings were released this summer. An initiative is expected soon.
A winning marijuana legalization initiative campaign could cost half a million dollars or more, and that's just for paid signature gatherers, never mind the ads. Those will run a cool $10 million or so -- and that's assuming no major opposition.