Illinois: Governor's Amendatory Veto Sends Pot Decrim Bill Back To Assembly For Final Approval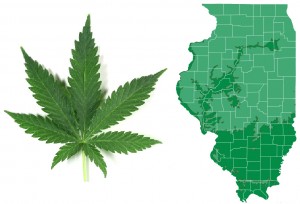 Illinois Gov. Bruce Rauner on Friday issued an amendatory veto of a bill that would remove criminal penalties for possession of small amount of marijuana, sending it back to the General Assembly for final approval.
The General Assembly has 15 days from the next session date to approve the amended version of HB 218, which needs to receive a simple majority vote in the House and then the Senate to officially become law. The original version, introduced by Rep. Kelly Cassidy (D-Chicago), was approved in the Senate (37-19) on May 21 and in the House (62-53) on April 23.
Gov. Rauner's amended version of HB 218 would make possession of up to 10 grams of marijuana a civil law violation punishable by a fine of up to $200 with no possibility of jail time, and the civil offense would be automatically expunged in order to prevent a permanent criminal record. The original version applied to possession of up to 15 grams of marijuana and set the amount of the fine at up to $125.
Under current Illinois law, possession of up to 2.5 grams of marijuana is a class C misdemeanor punishable by up to 30 days in jail and/or a fine of up to $1,500, and possession of more than 2.5 grams and up to 10 grams is a class B misdemeanor punishable by up to six months in jail and/or a fine of up to $1,500. More than 100 localities in Illinois have adopted measures that reduce penalties for simple marijuana possession.
Illinois would be the 21st state to decriminalize marijuana possession or make it legal for adults. Twenty other states and the District of Columbia have adopted laws removing the threat of jail time for simple marijuana possession, four of which have made possession legal for adults 21 years of age and older.
HB 218 also establishes a per se limit at which drivers are automatically deemed to be impaired by marijuana based on the level of active THC in the blood. Gov. Rauner's amended version unfortunately -- and unscientifically -- lowers the limit from 15 ng/mL in the original bill to five ng/mL. Even that's an improvement, since Illinois currently has a zero tolerance law that considers drivers to be impaired if they have any amount of THC in their bodies, including inactive THC metabolites that can be detectable for several weeks after consuming marijuana.
"We hope the General Assembly will approve the amended bill and replace Illinois' needlessly draconian marijuana possession law with a more sensible policy," said Chris Lindsey, a legislative analyst for the Marijuana Policy Project (MPP), which lobbied in support of the bill. "Nobody should face a lifelong criminal record and potential jail time for possessing a substance that is safer than alcohol. Serious criminal penalties should be reserved for people who commit serious crimes, not low-level marijuana offenses.
"The governor's version is not preferable to the original bill, but it is still commonsense legislation," Lindsey said. "It will still prevent countless citizens from having their lives turned upside down by an arrest for simple marijuana possession. This is a major victory for Rep. Cassidy and the Assembly, and it is an important step forward for Illinois."
Graphic: The Joint Blog