Kentucky: Sheriff's Office Asks Drug Dealers To Turn In Their Rivals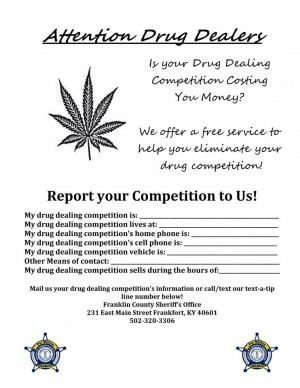 By Steve Elliott
Hemp News
Is it the American way? A sheriff's office in Kentucky is encouraging drug dealers to turn in their rivals, counting on old-fashioned greed to help them make arrests.
The Franklin County Sheriff's Office on August 3 posted a flyer on its Facebook page, reports the Associated Press. "Attention Drug Dealers," the flyer, which features a marijuana leaf, reads. "Is your Drug Dealing Competition Costing You Money?"
"We offer a free service to help you eliminate your drug competition!" the flyer reads. "Report your Competition to Us!
Franklin County Sheriff Pat Melton claimed the post was funny, but the sheriff's department isn't joking.
At the bottom, people are asked to fill out information about the drug dealer they are reporting, including the dealer's name and vehicle.
"It is a great idea and hopefully spurs some more action on our tip line," posted the Franklin County Sheriff Facebook account.
The post had gotten 941 Facebook "Likes" and 3,079 shares as of Friday afternoon.
Sheriff Melton claimed he got the idea from the McIntosh County Sheriff's Office in Georgia.