Israel: Medical Cannabis Could Be Worth More Than Natural Gas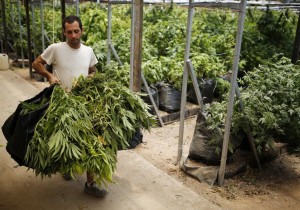 By Steve Elliott
Hemp News
Israel's natural gas reserves off its shores are considered a boon for the nation's economy. But the general consensus Thursday at a Thursday conference was that Israel is missing an even bigger opportunity -- in the field of medicinal cannabis.
The conference, on how Israel's farmers could benefit from the global market for medical marijuana, was hosted by the Israel Loss Adjusters Association (ILAA), reports Niv Elis at The Jerusalem Post. The cannabis market in the United States alone stands at $35 billion a year, according to Doron Havkin, chairman of the ILAA.
"Are we able to give up revenues from this market?" Havkin asked, arguing that the government could help Israel's struggling farmers in the Arava by declaring it a closed zone for growing export-oriented medical marijuana. Nearly 6,000 acres of land are waiting for such development, according to Havkin.
The economy would be the biggest beneficiary if Israel grew medical cannabis, according to Dr. Tamir Gadot, CEO of the pro-medical marijuana agricultural association Breath of Life. "The economic potential of growing Big Cannabis is greater than that of the gas," he said.
Dr. Gadot said that the government should recognize that medical marijuana is "a legitimate pharmaceutical industry,"
Ernst & Young estimate the value of Israel's gas reserves at $52 billion. In 2012, Israel's agricultural exports amounted to $2.4 billion, but cannabis costs a lot more than oranges and decorative flowers, which were that year's chief exports.
"Cannabis is used as a medicine, and we should look at it as an agricultural product in every way and give it an export license," said Meretz MK Tamar Zandberg, who chairs the Knesset Committee on Drug and Alcohol Abuse.
The proposal even found an unlikely advocate in far-right former Likud MK Moshe Feiglin, who said his wife, who suffers from Parkinson's, has found relief from cannabis. "We have to make a break from some deeply held beliefs," Feiglin bravely said.
Israel will miss the boat on medical marijuana if it doesn't take action soon, warned Amos Regev, an apprasier for ILAA.
"Cannabis is a path to a better future," Regev said. "Agriculture will blossom, crime will subside, and the sick will enjoy a better quality of life. If we don't do this, somebody else will do it instead of us."
Photo: An Israeli worker carries newly harvested cannabis plants at a farm near Nazareth. Reuters