Alaska: Marijuana Advocates Call For Home Growers To Be Able To Legally Sell Weed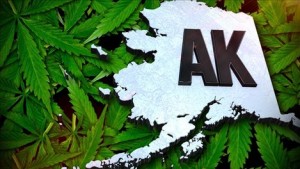 By Steve Elliott
Hemp News
Home cannabis growers in Alaska need a way to enter the legal marijuana market, a group of advocates said Tuesday at the first public hearing dealing with legal marijuana businesses in the Fairbanks North Star Borough.
"Most of the entrepreneurs are wanting to start a small boutique-sized facility in their home," said Shuan Tacke of Fairbanks, treasurer of the Alaska Marijuana Industry Association, reports Amanda Bohman at the News Miner. "No one would even know that it is next door to them as they don't even know now most of the time."
Tacke was among seven people to testify before the Planning Commission on an ordinance, 2015-41, which defines which zones allow cannabis dispensaries and companies.
Under the measure, no marijuana commerce would be allowed in residential zones. The Borough Assembly will have the final vote on the measure.
The details of the measure, according to deputy planning director Kellen Spillman, are:
• Heavy industrial zones are the most permissive for marijuana commerce. Cultivation, testing, manufacturing and retail would be allowed in heavy industrial zones.
• Cannabis cultivation would be allowed in agricultural and general use districts, but large facilities would be conditional and involve public hearings.
• Retail cannabis stores would be allowed in commercial and industrial districts.
• Product manufacturing would be allowed in multiple zones, though sometimes it would be conditional and involve a public hearing.
• General use zones -- which means most of the borough -- would require a public hearing for most businesses except small indoor cultivation facilities and testing facilities.
The ordinance provides buffer zones around places that cater to children, including schools, playgrounds and public pools.
The black market will continue it homegrown cannabis isn't allowed to enter the legal market, according John Collette, who said he had black market growing experience. Collette pointed out that people already grow cannabis at home.
Some marijuana supporters question the need for buffer zones and public hearings for the new industry.
"A lot of the things proposed in here are unnecessary and more restrictive than needed," Mystiek Lockery said.
Two people -- including Mary Lee Bates, who operates a shelter for homeless youth -- actually wanted larger buffers around youth centers and more regulation of the cannabis industry.
Photo: MGN Online/CI News Now