Hawaii: Medical Marijuana Patients Rely On Down-Low Grower Network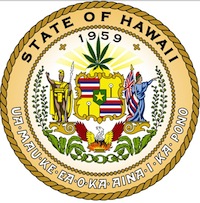 By Steve Elliott
Hemp News
Most of Hawaii's 13,000 medical marijuana patients first had to commit a crime to obtain and grow their medicinal cannabis under the state's laws. Though Hawaii voters legalized medical marijuana back in 2000, it didn't make provisions for legal dispensaries; it required patients to grow their own supply, but didn't specify where to get the seeds or plants.
"When the state passed the law, they allowed you to have a card, but they didn't provide you any way to get the product, grow the product or how to make the product into any form of medicine," said Jari Sugano, whose first cannabis plant came illegaly from another Hawaiian caregiver, reports News21. The plant was the only way she could grow medical marijuana for her now six-year-old daughter, who has Dravet syndrome, a rare and severe form of epilepsy.
The sale or transfer or seeds and plants is still illegal in Hawaii, even between qualified patients. For 15 years, the absence of a legal solution has fueled a thriving black market and made it hard to know who's using weed legally and who's not. Only this year did the Hawaii Legislature finally get around to legalizing dispensaries.
"It's taken 15 years to even get one change, one significant change, in the medical marijuana program," said patient Teri Heede of Kapolei. "The gross mismanagement of the medical marijuana program in Hawaii is the best argument for legalization that was ever made."
"Marijuana is a problem on our island," claimed Hawaii Police Capt. Robert Wagner. "It's a problem. It's illegal."
Wagner said most patients and caregivers comply with Hawaii law and stay under the seven-plant-per-patient limit. Others, though, cultivate more. "If somebody's growing a lot of marijuana plants, they are more than likely selling them for profit," he claimed.
Most marijuana in Hawaii is grown in greenhouses or pots, blending into the acres of lush foliage and the canopies of tropical trees. State regulators and law enforcement officials said they have no real way of knowing how many plants are cultivated by medical marijuana patients, because no agency regularly inspects the grows or knows how many exist.
"There's too much volume and not enough staff," said Scottini Rivas, director of Hawaii's medical marijuana program. Rivas runs the four-person staff at the Hawaii Department of Health responsible for every medical marijuana patient and caregivfer, as well as a backlog of about 2,000 pending medicinal cannabis appplications -- a number, by the way, which is expected to grow.
The most recent estimate on the number of Hawaii's medical marijuana patients -- 13,000 --- is last year's number from Department of Public Safety records. No numbers are available so far from 2015.