Washington: Top Marijuana Advisor Steps Down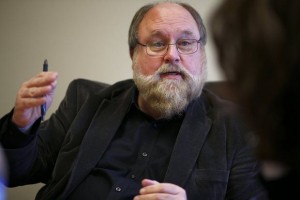 By Steve Elliott
Hemp News
The bureaucrat who helped implement Washington state's recreational marijuana law -- and dismantle the state's medical marijuana program -- is stepping down.
Randy Simmons, deputy director of the Washington State Liquor Control Board, said this year's "difficult" legislative session played a factor in his decision, reports Bob Young at The Seattle Times.
Battles erupted as monied I-502 business investors lobbied the Washington Legislature to "fold" the state's medical marijuana industry into the recreational side; that happened, effectively channeling all patients through I-502 stores and shutting down access through medical dispensaries statewide. It was an unappetizing spectacle, with 502 merchants picking over the remains of the medical marijuana community, looking for more profits.
"It was a hard legislative session," Young complained, evidently feeling patients should have uncomplainingly been led down the primrose path of eliminating medical dispensaries. "I felt tired of all the battles going on."
Simmons, 63, is leaving his job at the Liquor and Cannabis Control Board at the end of August to take a senior administrator's job at the Washington Department of Revenue. He said he's looking forward to a less stressful job.
The new cannabis industry seemed to change after I-502 stores opened last summer, according to Simmons. "With people hiring lobbyists, it shifted from 'Let's do something exciting' to like everything else in American society, 'What can I get for me?'"
Simmons just couldn't resist taking a last shot at the medical marijuana community he evidently so despised.
"There's this feeling in the medical world that they're entitled," he said of MMJ advocates in the state. "Some on the medical side are truly compassionate about the patients. Some are truly compassionate about making money."
Of course, I-502 author Alison Holcomb -- who recently called for the arrests of medical marijuana dispensary owners in Washington -- thinks the job Simmons has been doing is just peachy keen.
"He was the technician who turned the policy into concrete provisions," Holcomb claimed. "Randy did a fantastic job of embracing an impossible task."
Simmons gave himself a C-minus grade, saying his chief regret was that the LCB didn't move faster to license recreational marijuana merchants. He said the agency's 20 investigators were at first overwhelmed by more than 7,000 applications -- this, mind you, despite the fact that practically every cannabis expert in the state warned them it would happen.
Simmons actually defended the widely criticized lottery system used by Washington state to award licenses for retail stores, and which delayed openings since some winners viewed the licenses as "golden tickets" to be held or sold.
Photo of Randy Simmons: Bob Lok/The Seattle Times