Oregon: Thriving Hash Oil Market Skyrockets Demand For Marijuana Trim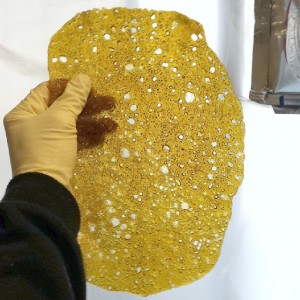 By Steve Elliott
Hemp News
Many of us can remember just a few years ago when it wasn't too hard to find free marijuana "trim," the leaves snipped from harvested cannabis flowers. Hell, quite a few growers had so much of the stuff, they threw it in the trash. How times have changed.
Trim has become a lucrative element of the cannabis economy in places like newly legal Oregon, where it's become a sought-after commodity in the state's thriving market for cannabis concentrates and infused edibles, reports Noelle Crombie at The Oregonian.
Trim has gone from free, almost being considered garbage, to fetching up to $400 a pound in Oregon. While $50 a pound was the norm just a couple years ago, $250 is closer to average now. (Cannabis flowers typically sell from $1,400 to $3,000 a pound on Oregon's wholesale market.)
One of the under-examined aspects of this green rush is the fact that it's made it much more difficult for cancer patients and their families to find full extract cannabis oil (FECO), popularly known as "Rick Simpson Oil" or RSO, because that same trim which would have gone into making FECO through an alcohol extraction process is now often diverted into making butane hash oil (BHO), favored by many recreational consumers.
"There has been all sorts of talk about how there is an excess supply of flower or trim on the market, but we are just not seeing that," said Beau Whitney, chief operating officer of medical marijuana extract producers Greenpoint Oregon, which markets under the brands Golden XTRX and Proper Oil.
It takes about 10 pounds of trim to produce about one pound of hash oil, and that means, according to Whitney, "Sourcing trim is really a full-time job."
"This market was a sleeper market," said renowned grower and author Jorge Cervantes. "Until the market became developed and people wanted it, nobody was really paying attention."
Concentrates now make up between 15 and 40 percent of Oregon's medical marijuana market, according to whose estimate you take seriously. The state has dozens of companies which specialize in turning trim and low-quality flowers into oils worth $25 to $50 a gram in the state's roughly 300 medical marijuana dispensaries.
From there much of the BHO (butane hash oil), often called "shatter" or "wax" according to which form it's in, is consumed through dabbing or in portable vape pens.
Companies producing hash oil will eventually fall under state regulation with Oregon's new recreational marijuana law. Early recreational sales are set to begin October 21, at which point adults 21 and older will be allowed to buy flowers, seeds and clones; until then, only medical marijuana patients and caregivers are allowed to buy those items.
Photo of shatter BHO: NW Cannabis Nursery