Spain Overtakes Amsterdam As Popularity of Cannabis Clubs Soars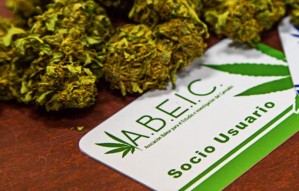 By Steve Elliott
Hemp News
Spain has overtaken the Netherlands as a marijuana smoking nation, and with the soaring popularity of its cannabis clubs, it has been dubbed the new Amsterdam.
Ranking third in the world for marijuana use, behind only Iceland the the United States, according to Recovery Brands, which operates addiction rehab and recovery websites, Spain has 10 percent of its population regularly getting high, reports Emma Anderson at The Local.
Iceland is at the top weed smoking nation in the world, with between 160 and 190 people smoking pot per 1,000 adults, according to Recovery, while Americans come in second with between 130 and 160 users per 1,000 adults.
The fact that cannabis is cheaper in Spain than in many other parts of Europe adds to its popularity as a marijuana destination. The new legal members-only cannabis clubs take advantage of a provision in Spain's pot laws that forbid trafficking it or smoking in public, but allow cannabis to be grown and consumed for private use.
While Catalonia and the Basque Country seem to be the center of marijuana use in Spain, such clubs are on the rise across the country. Madrid has seen 40 cannabis clubs open since 2011, according to the Spanish newspaper El Pais.
That means the Madrid metropolitan area is number four in the number of registered marijuana clubs, behind only Catalonia, with 162, the Basque Country with 119, and the Canary Islands with 69.
Last month, a ruling from the Spanish Supreme Court set precedent for how cannabis clubs operate when the court declared a 290-member Bilbao club in violation of public health for exceeding the definition of "shared consumption."
More people smoke cannabis than smoke tobacco in Spain. A poll last December showed more than half of all Spaniards want marijuana to be fully legalized.
Photo: Forbes