Oregon: Portland Approves 2015 Hempstalk Festival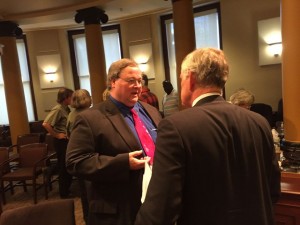 By Steve Elliott
Hemp News
Hempstalk 2015 is on! The Portland City Council on Thursday voted to grant Hempstalk a permit for its 2015 festival at Tom McCall Waterfront Park downtown. "We will have our Hempstalk festival," said organizer Paul Stanford.
The Council, on a 3-1 vote, overturned the Portland Parks Bureau's earlier decision to deny the permit, reports Andrew Theen at The Orergonian. The Police Bureau also opposed Hempstalk, a free 11-year-old festival which celebrates and advocates the legalization of marijuana and industrial hemp.
The lone "no" vote came from Commissioner Amanda Fritz, who oversees the Parks Bureau.
The decision means Hempstalk 2015 could occur around the same time as the first legal sales of recreational marijuana in Oregon, on October 1. "If I had my preference, it would be the first weekend of October," said Hempstalk organizer Stanford of the Campaign of the Restoration and Regulation of Hemp (CRRH).
Parks officials, meanwhile, claimed the event is set for September 26 and 27. Stanford said he had "no idea" where they got that date.
"It sounds like this event was imperfect," said Portland Mayor Charlie Hales on Thursday. "It sounds like there were some people smoking marijuana there." But Mayor Hales added that most large events in Portland are imperfect.
In contrast to last year's appeal hearing, when the City Council overturned the first permit denial but applied most of its pressure to Hempstalk organizers, this time the council directed most of their questions to city officials.
Mayor Hales asked whether there were any independent complaints filed by non-city employees against the festival. There must not have been any, because city officials claimed they "didn't have that information."
Commissioner Nick Fish asked whether there were any arrests, medical calls, drug overdoses or impaired driving associated with Hempstalk 2014. Once agasin, police and park representatives had no answer -- almost certainly because there weren't any.
Fish then called the city's presentation in support of denying the festival a permit "a little spotty, a little thin."
Supporters gave a huge round of applause when Commissioner Dan Saltzman used the term "double standard." Saltzman said Hempstalk and the city "got off on the wrong foot" in recent years.
Fritz, after casting the lone "no" vote, left quickly after the meeting. Fish and Hales, in contrast, mingled with Hempstalk supporters.
Organizers now have to quickly get Hempstalk ready for this fall.
Photo of Hempstalk organizer Paul Stanford (left) and Portland Mayor Charlie Hales: The Oregonian