Michigan: Top State Regulator Rejects Medical Marijuana For Autism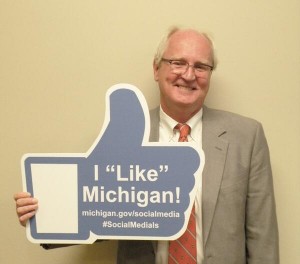 By Steve Elliott
Hemp News
Michigan Governor Rick Snyder's top state regulator on Thursday rejected the advice of a state panel and refused to allow the use of medical marijuana to treat autism.
The decision followed a three-year struggle by parents of autistic children, their lawyers and patient advocates to have Michigan become the first state to specify marijuana as a treatment for autism, reports Bill Laitner at the Detroit Free Press.
Mike Zimmer, director of the Michigan Department of Licensing and Regulatory Affairs (LARA), claimed he was concerned that an approval wouldn't apply just to serious cases of autism, but to all cases. Zimmer said that parents applying to use medicinal cannabis would need the approval of two doctors, yet there was no requirement that either doctor be experienced in treating autism.
Zimmer said, in a four-page "Final Determination," that allowing medical marijuana for autism might do more harm than good to mildly affeted autistic children. That view followed uninformed, but damaging, testimony in Lansing by Dr. Harry Chugani, chief of pediatric neurology at Children's Hospital of Michigan, considered a national authority on autism but obviously who doesn't know much about cannabis.
"The vast majority of kids with autism do not need pot, and I won't sign for it," Chugani huffed last month. He said cannabis should be reserved for those with "very bad behaviors, aggression, meltdowns."
Zimmer's order claimed there is insufficient scientific evidence to justify using marijuana for autism. That's a concern since marijuana research has been largely illegal to conduct under federal drug laws, said Robin Schneider of the Florida-based National Patients Rights Association, "But in this circumstance, the petitioner did an incredible job of putting together a great deal of scientific information."
The petitioner in question was Lisa Smith, mother of Noah, a six-year-old boy with autism. "It's my understanding that she is leaving the state," Schneider said.
"It's disappointing, and I believe he's making a very huge mistake," Smith, of Wayne County's Van Buren Township, said of the ruling, reports Ed White of the Associated Press. "The children and families that can be helped by this are numerous."
Michael Komorn, an attorney representing Smith, said supporters had submitted "overwhelming research" and peer-reviewed articles to make their case, reports Jonathan Oosting of MLive.com. He compared Zimmer's decision to "reefer madness," suggesting the department director didn't understand the science himself.
"This is wrong," Komorn said. "He misinterprets the Medical Marihuana Act."
"It's a real disservice to all those parents who were hopeful that they could be protected to treat their children with autism," Komorn said. "I'm disappointed and I'm frustrated. I think that obviously he used a lot of words to explain an inconsistent and subjective decision in opposing the panel's recommendation."
"If these parents know or believe that it's working, they're going to do it," Komorn said. "We're asking them to be removed from the battlefield of the losing War On Marijuana."
Autism, said to affect three million Americans, refers to a spectrum of brain disorders that can cause difficulties in speaking, socializing and learning. The symptoms of autism often ease in adulthood, allowing many with the condition to work successfully and to live independently, according to the Autism Society.
"Frankly, I'm said," said LARA panel member David Brogren after hearing of Zimmer's decision. The panel had voted 4-2 to approve cannabis for autism on July 28, with Brogren voting yes.
"I dare say, this is not over," Brogren said. "I will continue to work with the parents and families who face this challenge. Brogren, 61, is a retired insurance agent who lives outside Lansing and uses cannabis to treat his multiple sclerosis.
A bill that would expand Michigan's medical marijuana act to allow forms of medical marijuana other than dried flowers — House Bill 4210, sponsored by state Rep. Lisa Posthumus Lyons, a Republican from Alto, Mich. — has been in the House Judiciary Committee since February, after a similar bill failed to pass last year.
Photo: Mike Zimmer of LARA made the decision to reject medical marijuana for autism