Missouri: Jeff Mizanskey Walks Free After Serving Two Decades In Prison For Marijuana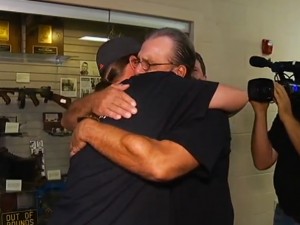 Jeff Mizanskey walked out of prison Tuesday morning a free man after spending 21 years behind bars because of a minor, nonviolent marijuana offense. Mizanskey walked into the arms of more than a dozen family, friends and supporters, including his son, who had fought for years for his dad's release from prison.
"I'm one of the lucky ones," Mizanskey said. "Now it's time to free the other victims of the war on drugs."
The 61-year-old became a symbol of the failed War On Drugs. His campaign for clemency attracted 391,254 Change.org petition signatures, a plea from the prosecutor who put him away, a bill proposed by Missouri Rep. Shamed Dogan, a letter for clemency from 126 Missouri lawmakers, billboards in prominent locations, including the state capitol of Jefferson City, a documentary about his plight, a commuted sentence from Missouri Gov. Jay Nixon and a successful review from the parole board.
"He saw rapists, murderers and child molesters get out of prison while he was sentenced to die behind bars for something that should not be a crime to begin with," said his lawyer, Dan Viets. "Jeff's case is an example of the extremely harsh drug laws which have failed to reduce marijuana use but have wasted vast amounts of public money in the effort to enforce marijuana prohibition, disrupting the lives of good people who do not deserve to be treated like criminals."
Apart from nonviolent marijuana offenses, Mizanskey has no prior criminal convictions. The harsh sentence was a result of Missouri's "prior and persistent drug offender" law, a law which was repealed by the Missouri General Assembly, in 2014, effective January of 2017.
Born on April 25, 1953, Mizanskey grew up in Chicago, attended Hubbard High School, and worked as a mechanic in "Harry's Garage," which his father owned. He joined the Air Force in 1971 as a heavy equipment operator, was assigned to Whiteman Air Force Base in Missouri and was honorably discharged in 1975. He and his wife settled in Sedalia, Missouri, and had two boys, Chris and Robbie. Mizanskey worked in construction and property management, often spending his free time fishing for catfish at Truman Lake.
On Nov. 19, 1984, Mizanskey pleaded guilty to two marijuana felonies. He had sold 1.2 ounces of marijuana to an informant, and police found had eight ounces in his home the next day.
On Oct. 9, 1991, he pleaded guilty to another felony, this one in Pettis County, for possessing two to three ounces of marijuana. April 25, 1996 was his final conviction, by a Benton County jury. He was found guilty of felony possession and sentenced to life with no option for parole.
His crime was holding a brick of six to seven pounds of marijuana in his hands for mere moments. A thorough judicial history of Mizanskey's case, prepared by his lawyer as part of his clemency petition, can be found here.
"My father has never met his grandchildren and wasn't allowed to attend the funerals when his parents died," said his son, Chris Mizanskey. "His conviction devastated the family."
"Almost everyone has someone in their family who has used marijuana," Chris said. "Under our current laws, what happened to us could happen to anyone."
"I can't begin to describe how great this day is for our family," Chris said. "All I can say to you is thank you. Thank you for signing my petition, for making phone calls and sending tweets, and for making donations. You made this happen."
At the time of his conviction, Mizanskey's case did not get much attention. But that started to change in 2009, in part because of a paramilitary-style home invasion in a subdivision in northern Columbia.
On March 9 of that year, about a dozen members of Missouri's MUSTANG task force swarmed into the home of Travis Maurer, who was in his boxer shorts working on a computer. According the Maurer, police put an assault rifle up to the head of his wife, who started having a miscarriage, and arrested him for growing marijuana.
After getting out of jail, Maurer vowed to help other victims of the Drug War. He co-founded New Approach Oregon and helped lead the successful campaign in Oregon to legalize marijuana. He also co-founded Show-Me Cannabis to do similar work in Missouri.
"When I learned about Jeff Mizanskey, I knew we had to go all out to free Jeff because he embodies everything that is wrong with marijuana prohibition," Maurer said. Show-Me Cannabis, in collaboration with others, began campaigning for Mizanskey's release.
After Jeff gets out, his family plans to take him to a restaurant and serve him his favorite dinner — a grilled, three-inch T-bone steak, with eggs.