U.S.: 'Almost Legal With Tommy Chong' Features Legendary Actor In New Series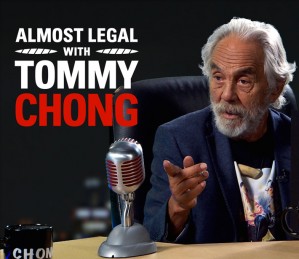 FilmOn Networks on Wednesday announced a new comedy series hosted by the legendary Cheech & Chong star, Tommy Chong, "Almost Legal With Tommy Chong."
The iconic actor, best-selling author, and Grammy-winning comedian will host an interview and sketch comedy show co-produced by FilmOn Networks and title sponsor WeedMaps. The series will be distributed by FilmOn.com, and air on FOTV over Dish Network.
"Almost Legal with Tommy Chong" is an irreverent take on the traditional late night talk show with celebrity interviews, sketch comedy and musical acts—he's called it "a stoner's version of Jon Stewart." Chong will address, "anything that affects the pot smoker's status in any way, negative or positive," and that includes his own battle with cancer and salvation through medical marijuana.
Confirmed guests include Danny Trejo, Steve-O, Andy Milonakis, Garfunkel and Oates, Chef Roy Choi, Hannibal Buress and select guests provided by WeedMaps, such as major marijuana attorney Linda Held.
The show is written by veterans from "The Whitest Kids U'Kno" and "Late World with Zach Galifianakis." Chong's production company Chongson is also co-producing. The series is directed by Tommy's son, Paris Chong, executive produced by Eli Graham, written by Sam Brown, Joe Wagner, Kyle Williams and Eddie Ifft, and shot in Los Angeles.
"I am thrilled to co-produce and distribute Almost Legal with Tommy Chong," said FilmOn Networks CEO Alki David. "His fans are legion, and his comedy has never been more relevant—and poignant—than now. WeedMaps is the perfect partner to make this happen for the FilmOn.com audience."
The show is the first FilmOn has created as branded entertainment with a major sponsor. FilmOn said it will secure additional ad revenue for the show and distribute to it's 70 million monthly unique users around the world, as well as syndicate the content to WeedMaps.