California: Gov. Brown Brokering Deal On Medical Marijuana Regulations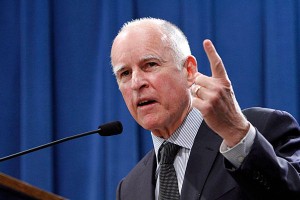 By Steve Elliott
Hemp News
California Governor Jerry Brown's office is working on the framework for medical marijuana regulations in California in a session-closing move that could end nearly two decades of court battles in the Golden State.
With the Legislature scheduled to adjourn next week, the Governor's office is said to be emphasizing the details of a compromise measure on medicinal cannabis, report Christopher Cadelago and Jeremy B. White at The Sacramento Bee. The legislation could impact the push to put a recreational marijuana legalization initiative on the 2016 ballot.
Gov. Brown's office isn't commenting, but lawmakers and stakeholders have confirmed that his administration has stepped in to help develop a bill. Legislative leaders last week stripped the contents of several medical marijuana measures and linked them with boilerplate language, giving Brown's aides a chance to start all over.
"The Governor's Office has been very heavily involved," said Assemblyman Ken Cooley (D-Rancho Cordova), who wrote one of the medical marijuana bills. "They've brought forward some different views on how to structure it, which I think people are pretty comfortable with."
"I'm feeling like we're a week out and we have wide (support for acting) ... trying to bring this thing home," Cooley said.
Exactly which department will oversee and enforce marijuana regulations has been a point of contention, leading to some simmering tensions between the two chambers of the California Legislature.
"I feel the Governor's staff has played a very important role" in managing the conflicts, Cooley said. "To have the Governor's Office say here's where we think the center lies, here's a reasonable balancing, that's actually helped."
"Instead of sitting on our hands, we have come together in a bipartisan fashion to find a solution on how to regulate medical marijuana that works for all our local communities," said Assemblyman Tom Lackey (R-Palmdale), who also wrote one of the medical marijuana bills.
"We are certainly hopeful that a bill that protects public safety and protects local control will emerge from the process," said John Lovell, a senior policy adviser to the California Police Chiefs Association. "The administration's involvement and engagement is a positive development in moving a bill forward."