U.S.: Miley Cyrus Passes Around Lit Joint Backstage At Video Music Awards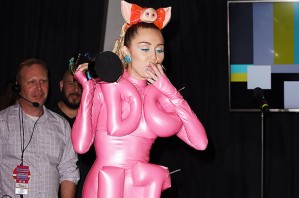 By Steve Elliott
Hemp News
Miley Cyrus doesn't mind anyone knowing she enjoys marijuana. In fact, the 22-year-old entertainer came backstage at the Video Music Awards with a lit joint and passed it around to photographers.
"I've been doing this shit for awhile," Cyrus said, reports Mesfin Fekadu of the Associated Press. "Because you're all my friends, and my song is kinda, sorta about the love of marijuana and the love of humankind, I brought a little joint if anyone would like any. Anyone?"
Cyrus, who flashed one of her breasts during the show, sang a song, "Dooo It!" which included the lyrics, "Loving what you sing, and loving smoking weed." She ate what were supposed to be marijuana brownies during one skit with Snoop Dogg, and lit up with a group of friends in another. She held up a selfie stick and told the group of people behind her, "Everyone say marijuana!"
Pot is popular among MTV's target audience, but these antics predictably came under criticism from an organization which ran anti-cigarette smoking ads during the VMAs. That organization, the Truth Initiative, has complained to MTV's parent company about the multiple references to cannabis during the show, claiming it would "send the wrong message" to young viewers.
"It is entirely understandable for viewers to be confused, after hearing so much about marijuana during the VMA broadcast, to see a powerful advertisement about the dangers of tobacco," claimed Eric Asche, chief marketing officer at the Truth Initiative. (Apparently Asche has trouble grasping the concept that tobacco and cannabis are two entirely different, completely unrelated substances.)
Asche said his group was "extremely disappointed" and that he had expressed that feeling to Viacom, which owns MTV. An MTV spokesman declined to comment.
Tim Winter, president of the Parents Television Council, joined in the uptight criticism. "What they're basically doing is telling everyone, especially kids but all viewers, that marijuana use is nothing to eschew," Winter said.
"It's really a bad message to young people that marijuana is harmless, especially at a time when the marijuana kids are using is five to 10 times as strong as the marijuana their parents used," claimed a clueless Kevin Sabet, head of the anti-pot group Smart Approaches To Marijuana.
Photo: Miley Cyrus enters press room at VMAs with a lit joint [Steve Granitz/WireImage]