Oregon: Portland Hempstalk 2015 Set For Oct. 17-18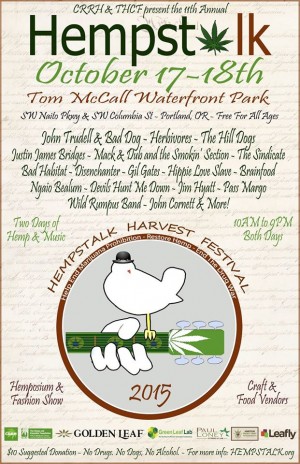 By Steve Elliott
Hemp News
It's a go for the 11th annual Portland Hempstalk Festival!
Once again, after months of delay, city officials have finally granted a permit for this year's event at Tom McCall Waterfront Park in Portland, for Saturday and Sunday, October 17 and 18, 10 a.m. to 9 p.m, both days.
The event, sponsored by the Campaign the the Restoration and Regulation of Hemp (CRRH) and The Hemp and Cannabis Foundation (THCF), advocates for the decriminalization of cannabis for medicinal, industrial, and recreational use. Founded in 2005 by THCF, the festival features live music, guest speakers, food and merchandise vendors and information booths.
The public event has always been free to attend, with a suggested donation of just $10 per person.
According to Paul Stanford, founder and presenting sponsor of the event, "Hempstalk is about the many uses of agricultural hemp fiber, oil, protein, fuel and medicine. We are working to end adult cannabis prohibition, allow adults to grow their own and license the legal sale of psychoactive cannabis to adults.
"We believe that hemp will save the Earth's biosphere with the adoption of hemp seed for bio-diesel fuel, which will solve the energy and world hunger problems, and stop deforestation when hemp fiber is used for paper and building materials," Stanford said. "We shall overcome!"
Featuring three stages, the Jack Herer Main Stage, the Green Goddess Stage, and the Elec-Chronic DJ Stage, the bands, music and informational guest speakers are sure to inspire and inform attendees.
Already confirmed on the musical bill for 2015 are John Trudell & Bad Dog, Herbivores, The Hill Dogs, Justin James Bridges, Mack & Dub and the Smokin Section, The Sindicate, Bad Habitat, Disenchanter, Gil Gates, Hippie Love Slave, Brainfood, comedian Ngaio Bealum, Devils Hunt Me Down, Jim Hyatt, Pass Margo, Wild Rumpus Band, John Cornett and more.
Also scheduled are Hemposium panel discussions and a hemp fashion show, with plenty of local crafts available at vendor booths.