Study: Patients Replace Prescription Drugs With Marijuana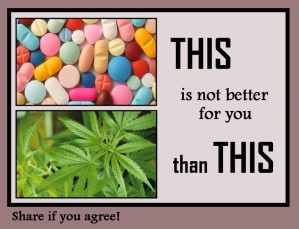 By Steve Elliott
Hemp News
Patients with legal access to medical marijuana use less conventional pharmaceuticals, according to a demographic review of patient characteristics published online in the Journal of Psychoactive Drugs.
Investigators with the Medical Marijuana Research Institute in Mesa, Arizona, looked at responses from 367 state-qualified medicinal cannabis patients recruited from four Arizona dispensaries, reports the National Organization for the Reform of Marijuana Laws (NORML). Respondents were most likely to be male, in their mid-40s, and daily users of cannabis.
Respondents most often reported using marijuana for pain, muscle spasms, nausea, anxiety, depression, arthritis, headaches, insomnia, and stress. They typically said cannabis provides "a lot of relief" or "almost complete relief" of their symptoms, and that it is more effective than conventional pharmaceuticals.
Patients also understandably, therefore, reported reducing their use of pharmaceuticals. More than 70 percent of those responding said they used other medications "a little less frequently" or "much less frequently" for 24 of the 42 conditions specified. More than 90 percent of those who used marijuana for nausea, headache, muscle spasms, fibromyalgia, bowel discomfort, and chronic pain said they used pharmaceuticals less frequently once they started cannabis therapy.
Previously published data similarly show patients' willingness to substitute marijuana for prescription drugs, especially opioid painkillers.
A study published in July by the nonpartisan think tank, the National Bureau of Economic Research, reported, "[S]tates permitting medical marijuana dispensaries experience a relative decrease in both opioid addictions and opioid overdose deaths compared to states that do not."
Data published in 2014 in the Journal of the American Medical Association (JAMA) Internal Medicine reported, "States with medical cannabis laws had a 24.8 percent lower mean annual opioid overdose mortality rate compared with states without medical cannabis laws."
Graphic: DrugPossessionLaws.com